The Only Guide to Eloping in Vegas
So you want to Elope in Las Vegas. Perfect!
Las Vegas offers so many options for all couples. It's easy to get lost in all the information. There are logistical factors at play: the weather, location-permit fees, setting up transportation, choosing flowers and not to mention- getting the perfect vendors.

Can this be done if we've never been to Vegas and don't plan on coming out until our Elopement?
It is absolutely possible to plan an elopement completely through email. I have planned a 250 person wedding via email and more recently, due to the current Global Crisis (Covid-19), planned all events for 2020-21 virtually.
P3 Events has planned events as large as 500 and as intimate as 2.
I had a large wedding at a large venue and all the pomp & circumstance. It was amazing and everyone loved it; but looking back, I would definitely opt for an elopement with a small entourage. Luckily, I got the best of both worlds and in 2018, I had the honor of planning and designing my best friend's Red Rock Canyon Elopement! We are very similar and very different, so I really enjoyed being able to play with her organic and earthy vibe while incorporating my big city-glam style.

After Julia & Nathan's Elopement, I was sold. I decided then, on the Overlook, we were moving to Las Vegas and I was focusing my attention to Intimate Gatherings & Elopements! That's how amazing their elopement was.

Let's get into it.
According to The Knot's 2021 Real Wedding Study:
The national average cost of a wedding is $33,900.00. Nevada's average cost of a wedding is $22,500.00. P3 Events' Elopement Costs start at $2,000.00!

Surprises are great but not with money (unless someone is giving it to you). Once you figure out what you're comfortable spending it will be easier to pin down vendors. The comparisons above are based on the average cost of wedding vendors in 2021 and the average amount spent for every Nevada wedding for groups smaller than 25.

Choose your location: Vegas has the most gorgeous locations just a little bit outside of the usual "city." If you are looking for something less cheesy than an Elvis Ceremony 🙂 – look at some of these amazing locations you have to choose from.

Red Rock Canyon Weddings There are several packages available if you want to get married against the Red Rocks or one of the several other Desert Locations in Las Vegas. I love this location specifically because of its proximity to The Strip (about 15 minutes) and amazing restaurants off-strip.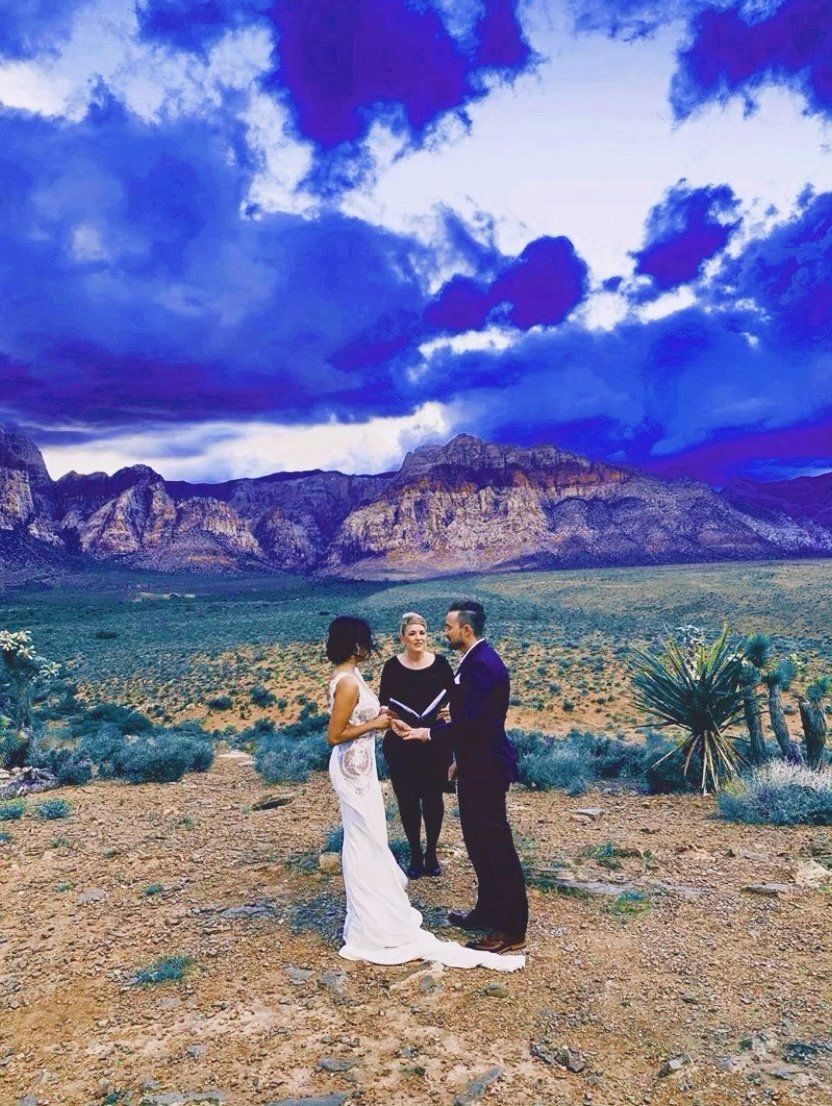 Desert Love at Cactus Joe's:
Love this venue deeply! It requires no permit and is our only desert location offering. Yes, we will do the Dry Lake Beds or Red Rock but why?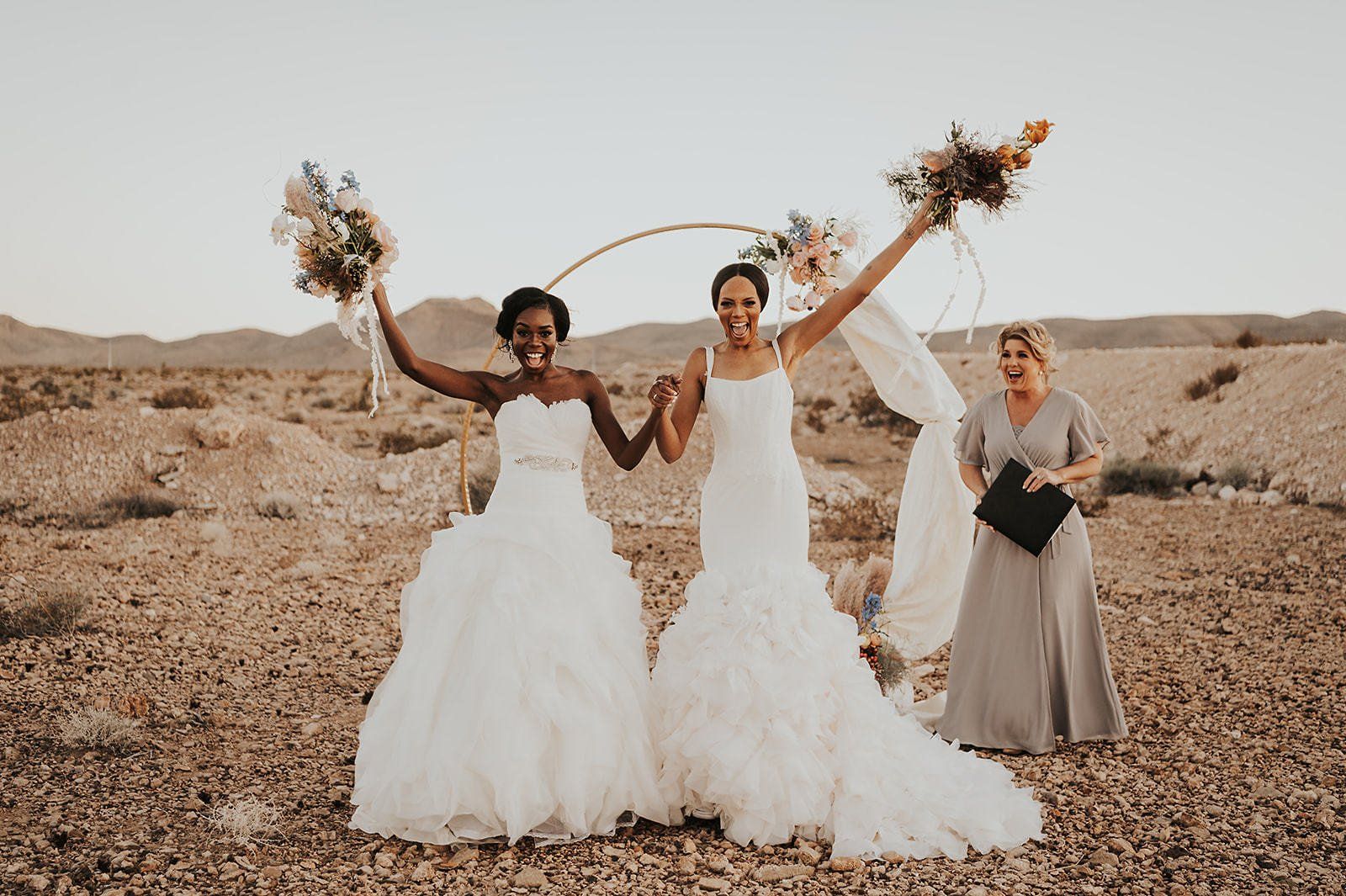 Downtown Las Vegas (anywhere!):
When you have The Strip at your fingertips, you have to use it! Hotels & Restaurants offer elopement packages to accommodate all types of requests and styles. A very popular Elopement…in your hotel Suite! We work with some of the best hotels with the prettiest views. Choosing one of our packages for 2 people will allow you to have everything brought to you!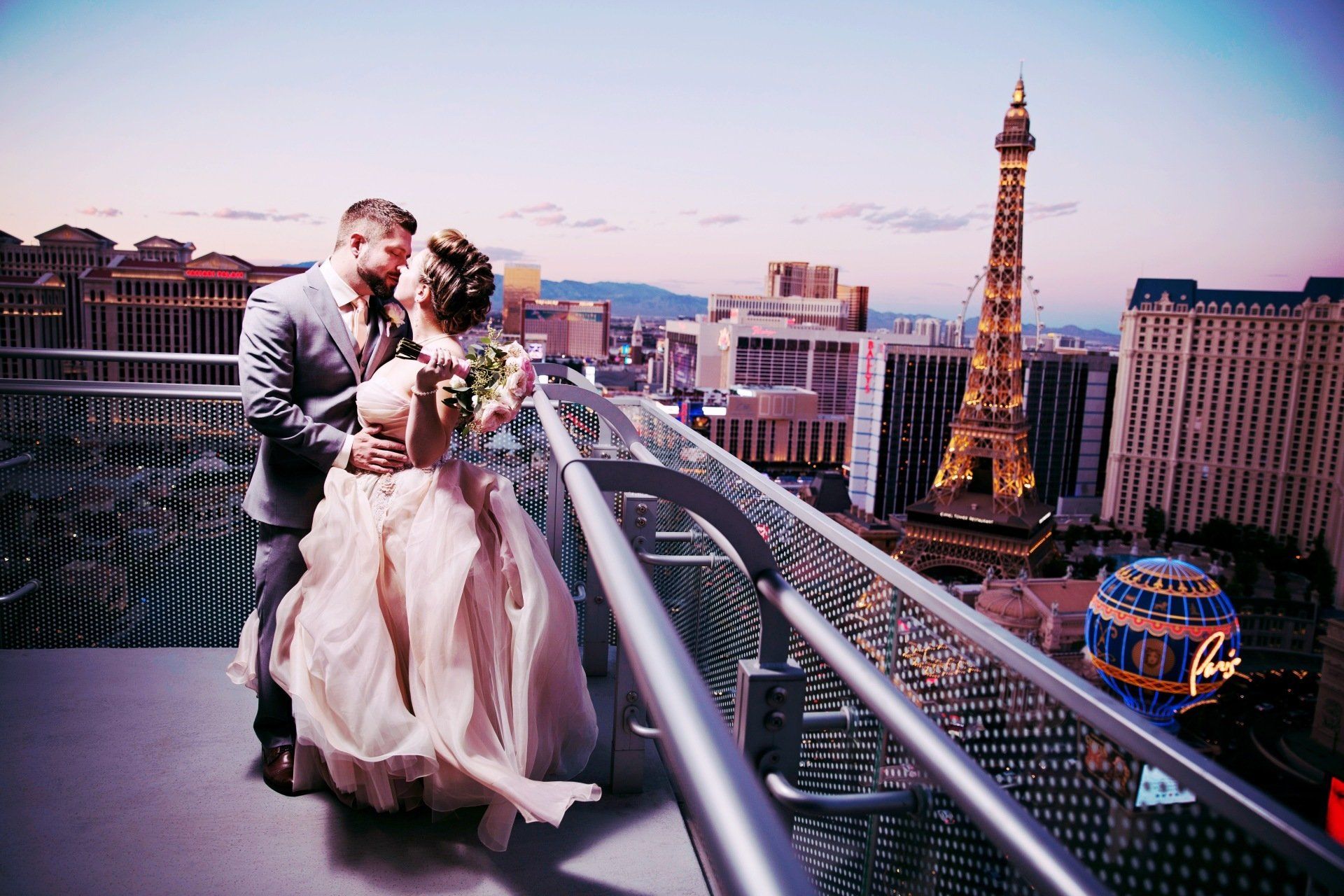 Greengale Farms ~ Palm Grove is another favorite of mine. It's a unique venue 25 minutes from The Strip and provides amazing spaces for your intimate ceremony. This is one of 3 spaces Greengale has to offer.
Cactus Joe's: Is a really fun venue that also offers several very different locations for your elopement. You can create your own space all of the plants, rocks and decor the venue has, get married in front or inside their pink chapel, on their desert property across the street or near a koi pond!
Book your Vendors & Solidify a Permit Pricing and availability will depend on the day and time you select. I always suggest a weekday; Wednesday or Thursday and an hour before sunset. This way you get amazing "Golden Hour" photos and if timed correctly, a kiss at sunset.
If you choose a planner who offers Elopement Packages- you are most likely to have a pre-selected set of vendors so you can just show up ready to get married. If you are not, I would recommend booking your photographer first and then asking them what vendors they love to work with. Your photographer will let you know what, if any, permits are needed for your ceremony and or reception locations.
When is the best time to Elope in Vegas?
I personally think Vegas is amazing for weddings year round. Being from Chicago means getting 3 good months for weddings, so I don't take Vegas's weather for granted. Every season has something to offer different wedding visions. My favorite season and the most popular for Elopements is Fall, so let's start there.

Fall Weddings in Vegas
Fall in Las Vegas is magical. The trees change, the air is crisp and the skies give you some of the most amazing sunsets. September is the first month when we start to feel a cooling from the super hot months. October, the last few years has had a mix of random HOT days but stays consistent with the cooling down type weather. When November hits, you're already used to a slightly heavier jacket when going out. The temps range from 40°F at night and 60°F during the day.

Winter Weddings in Vegas
Winter weddings in Las Vegas can be gorgeous. Running from December to February, I see a lot of couples opting for indoor Elopements, pictures outdoors and intimate dinners with toasts around a roaring fire! There are amazing options for Winter weddings in Las Vegas. Just be sure to add a cute jacket to your gown.

Spring Weddings in Vegas
Everything is blooming in March and it's such a beautiful backdrop for a Wedding. My best friend was married May 19th, 2019 and while it did rain (horrifically), she got some of the prettiest pictures I have ever seen! A lot of planners will say the chance of rain is low or it never rains…I would always consider a rain plan and know your options ahead of time. This tidbit of advice can really put a wrench in the plans. Think up-dos or a lot hairspray- it is known to be a tad bit windy.
Summer Wedding in Vegas
June through August in Las Vegas are extremely hot…temperatures exceeding 100°F. Most of your well-known desert locations do not offer weddings through the hottest months and will post advisories when necessary. Early morning or evening ceremonies are always recommended to ensure it is not too hot for you and your guests. There is also more of a chance of light showers throughout the day but they roll right through and basically act as Mother Nature's sprinklers.

You do not have to pick your date based on season. I always suggest choosing a date that means something to both of you personally. If you aren't tied to anything in particular, pick your dream location and go off their availability.
The Legalities and such…
It is always great to get this information directly from the source. Especially with everything going on right now. Upon opening, they will have several new guidelines and procedures to ensure your safety when you go to obtain your Marriage License. Click here for more information but read below for the basic info. You can also read How to get your Marriage License in Las Vegas for more info.
Choosing your Officiant or Modern Minister
It is important to decide what type of service you'd like as well as the person who is going to marry you. P3 works with a variety of officiants & modern ministers. We love how they vibe with our clients and serve as an amazing resource throughout their ceremony construction.

There are several small details that go into a ceremony- big or small your officiant will walk you through the steps. If you find yourselves wanting to have custom vows (always recommended), your Officiant or planner will help you create something amazing.

Depending how far you are in the planning process, your officiant can also refer you to several amazing vendors.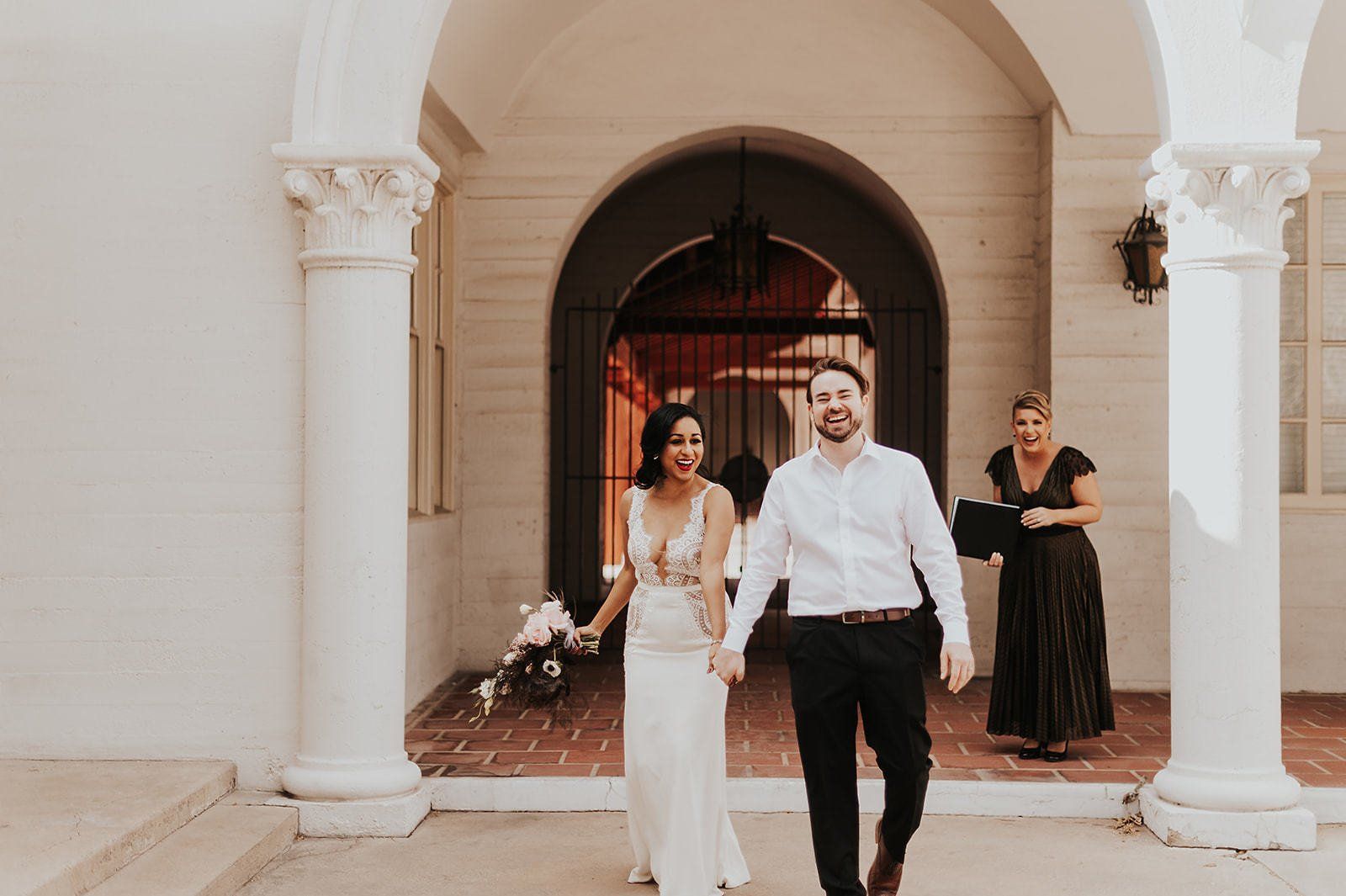 Family & Friends
Elopements mean something different to different couples. It doesn't matter if it's a spur of the moment happening or an intricately planned adventure for 25 people or less.
P3 offers three all-inclusive packages for several different venues in Las Vegas. Currently, our venue list is as follows:
Greengale Farms
Desert Love at Cactus Joe's
Cactus Joe's
A Simple Affair
Sure Thing Chapel
Midcentury Manor
Neon Museum
Loft-Like Spaces or Blank Canvas Venues
Venues but have carefully curated, all-inclusive packages with some of our favorites! Each package includes everything you will need for that specific venue to have the most successful and visually pleasing elopement.
Personalize your Day!
There are several ways to personalize your entire elopement day without being cheesy or too over the top. I always like to make sure my couples personalities are told through the entire experience. After listening to what they love about Vegas, what they like to do together, what their idea of relaxation is and several other details.
Other ways to personalize your day:
choose a cool dress that represents your personality
detailing your personal flowers to match your personalities (ask your florist for help with this)
map out some amazing photo locations and get fantastic shots
having a custom menu created for you at the restaurant of your choice
As you can see there are so many ways to add personality and uniqueness to your Vegas Elopement.
Transportation
Staying on time is extremely important on your wedding day, especially with elopements. You usually get a specific time at your venue or desert location for the ceremony and pictures after. Ensuring your guests arrive on time is paramount. Vegas is gorgeous and you cannot beat a desert wedding…cell phone service is hit or miss and navigation rarely works for everyone.
When your guest count is intimate (50 or less) you can control almost every aspect of the event. That includes how you get to your venue(s). I love the itineraries that include the couple and guests meeting at their hotel bar for cocktails and a party bus arriving to whisk everyone to the ceremony location and then onto dinner. It makes everything run much smoother and adds a clean finish to your elopement. By doing your Itinerary first, you will be able to see where you need transportation and for how long.

If it is just the two of you, you have two options: get a driver to chauffeur you around all day or rent a car…the type is up to you! I usually recommend Uber Black Car or Turo.com. We also work with some great transportation vendors who offer anything from Deloreans to a 1956 Pink Thunderbird!

Like I mentioned above, if you can provide transportation for your guests- do it. I have seen plenty of weddings held up due to 1-2 guests getting lost. You have a few options if you decide to go this route. My favorite and most cost effective is Uber Events.
They allow you to provide a code specifically for your guests to use to receive a complimentary ride or credit to and from your venue! You can also rent a party bus if you have under 25 guests or double up if you have more.

Whatever option you choose, you should afford your guests to be informed of it. Whether it's Welcome Bags at check-in with an itinerary inside listing pickup times, signs placed in the lobbies where guests are staying or including the plans in the invitations.
Where to Stay
There is no shortage of places to stay in Las Vegas. It's really a matter of what experience you are looking for.
If it's just the two of you, I love the Delano. It does not have a Casino on the property but there is one in Mandalay Bay (right next door). I personally love that the lobby is less busy, less bright and more secluded. It is furthest down the strip and allows it to be a part of all the action but not "all up in it."

If you want to splurge, I suggest the Sky Suites in the Aria. Not only do you get amazing views of the strip but door to door service from when you land (or from your home, if you're a resident), a lounge specifically for Sky guests and a Personal Concierge.

If you are inviting guests and want to have a few things lined up for the weekend, I always suggest all staying in the same place. I really like The Nobu Hotel at Caesar's Palace. It's designed beautifully and when I stayed- experienced amazing service.

I really like The Palms…again further down the strip with amazing views, restaurants and entertainment on their grounds. This hotel is the best if you are looking to plan a jam-packed weekend with prearranged meals, shows and pool times. They will work with you to bring your Itinerary to life!

Luckily, you are in Vegas- the capital of customer service and instant gratification. You should be able to have any of your requests fulfilled at any of these locations.

Red Rock Casino Resort & Spa
JW Marriott Resort & Spa (Las Vegas)
The Element (Las Vegas-Summerlin)
The Cromwell (The Strip)
Your Photographer
What's the point of all this planning if your pictures are crap? Honestly? I'll wait. Exactly! Outside of the couple, I consider Photography the most important part of any wedding- no matter the size. Your photos are the only thing that lasts from your elopement. They are the only things that can be shared to landmark this amazing moment in your lives. Wedding Photography, on average, costs $2,400.00. You will expect to pay $1,300.00 for an Elopement Photographer.
You are in great hands with the photographers Vegas has to offer. I personally am still in awe as I see such amazing, stylized and artistic images everyday. Our packages pair you with a photographer based on your photography style (what images you lean more towards). The best way to find your photography style is to use Pinterest and start pinning! Pin all the images and then find photographers who specialize in the very same style you vibe with the most.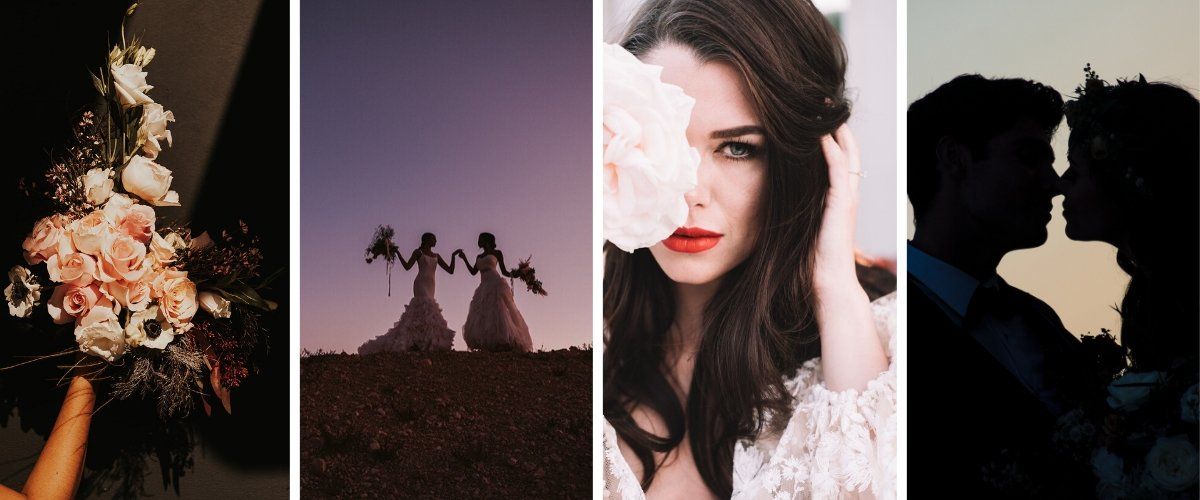 The photographer you choose is important not just because of their finished product. If you aren't using a planner or doing a package- they are your number one. They will most times handle the permit for you and if not, will direct you to a planner that holds permits for your chosen location.

All those amazing pictures you see of Vegas weddings were planned and every photographer "perfect locations" to take you to. Make sure your photographer's favorite locations match up with the vision you have. If they do not, let them know and they will be happy to recommend other locations more in line with your wishes.

I always provide a "Shot List" to our photographers to ensure they get the standard wedding images and then like to include shots the couple requested as well as anything that would really tell their story. To go even further, add picture examples of things you found on Pinterest to really make sure your Photographer understands what you're going for. While no photographer likes to copy other's work, they will keep all of your requests in mind and produce something that aligns with their creative integrity but also your wishes.
The Ceremony & Reception
Ceremony
By this point in your planning you should have your location, officiant, photography and transportation. You should also know exactly how you want your ceremony to run and your party or reception to flow.
If you are doing a sunset desert ceremony, ensure you and your guests get there slightly early. You will need to sign your Marriage License and maybe take some shots (pictures or drinks) before everything kicks off.
Reception
Whether it's a party for 2 or for 25, you should commemorate your elopement with at least Champagne and at most a fancy dinner. Here are some of my favorite scenarios and how to go about coordinating it.

Cake & Champagne Celebration
My favorite option is a Cake & Champagne celebration either directly after the ceremony or at a second location. This works, no matter the guest count. Tell your baker and let them handle the rest.

Seated Dinner at a second location after your Ceremony
I love coordinating king's table style dinner parties for our couples' guests. Nora's Italian Restaurant on Tropicana offers the perfect setting for a cozy cocktail hour on their gorgeous patio and a delicious family-style dinner in their private dining space. I cannot speak about Nora's enough. When we were still living in Chicago, Nora's was something I would dream about constantly.
Saying Thanks & Announcements
The whole point of eloping in Vegas is to escape the traditional, focus on the details and to make it about you as a couple. When choosing to elope all of the people you'd like to be there, cannot. There are plenty of creative ways to let your friends and family know you got hitched.

Make it Virtual!
A newer option (with Covid-19 and all that jazz), virtual weddings can really be what you make them. Do your ceremony and ask someone (if you have that option), to "go live." How you choose to do that is up to you. If you want to read more about Virtual Weddings, click here.


Take a "Thank You" Picture: Let your photographer know you'd like to do this. They will either have a sign for you to use or if you really want to personalize it, Etsy.com offers some great options. You can either send these out as announcements or post on Social Media.

Send out Announcements As mentioned above, you could use a few images from your ceremony to create an announcement that you could mail out, post on social media or make into an e-announcement. I am really liking the "flipbook" announcements…your photographer takes a burst right at the first kiss and turns it into either a digital or hard copy version for couples to send to their guests.
I hope this realllly long blog helped you in some way! Las Vegas Elopements are truly one of the most magical experiences. If after reading this, you now definitely want someone else to do it for you…we would be thrilled to help! Schedule a time to chat here!
Thanks for reading!
XO, Lindsay
Sources: Farmer's Almanac 2020-2021
Clarkcountynv.gov- How to get a marriage licenseTheWeddingReport.com:
Wedding Industry Report for Nevada Weddingwire: Newlywed Report 2019