A WEEDding at Cherry Clouds Oasis
This was definitely one of my favorite shoots to date! We had so many amazing vendors, a ridiculous beautiful desert landscape and some amazing photographers. This blog is longer than any we've had before because it was 3 shoots in one day and there were 6 photographers there! I wanted to make sure each had a place, so you have a lot of content to view!
Without further ado,
I invite you to a WEEDing Elopement…
The day started off as any 4/20 should. Waking & Baking in a canvas tent in your underwear! Liko & Stacey are the owners of Cherry Clouds Oasis and a week after this shoot…ENGAGED! They provided the amazing bed and allowed the photographers to capture them rolling around and having fun in the smoked out tent (fog provided by Trev Productions)!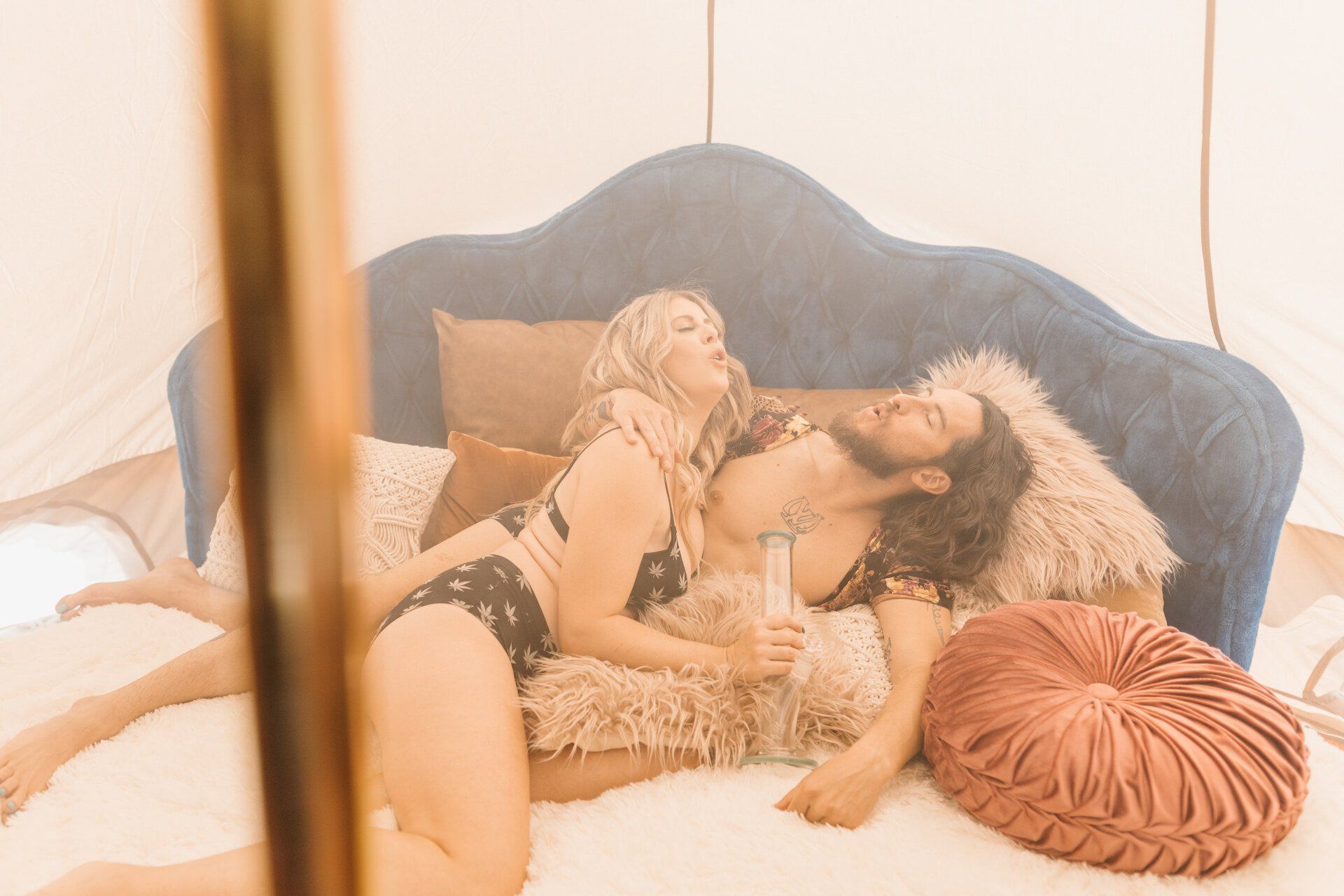 After the tent was thoroughly smoked out, it was time to head to Tecopa Hot Springs for more smoking but in the water! We couldn't leave without getting some of those Booty Pics everyone loves so much! Trev Productions did some amazing things with his fog machine and the pictures came out amazing!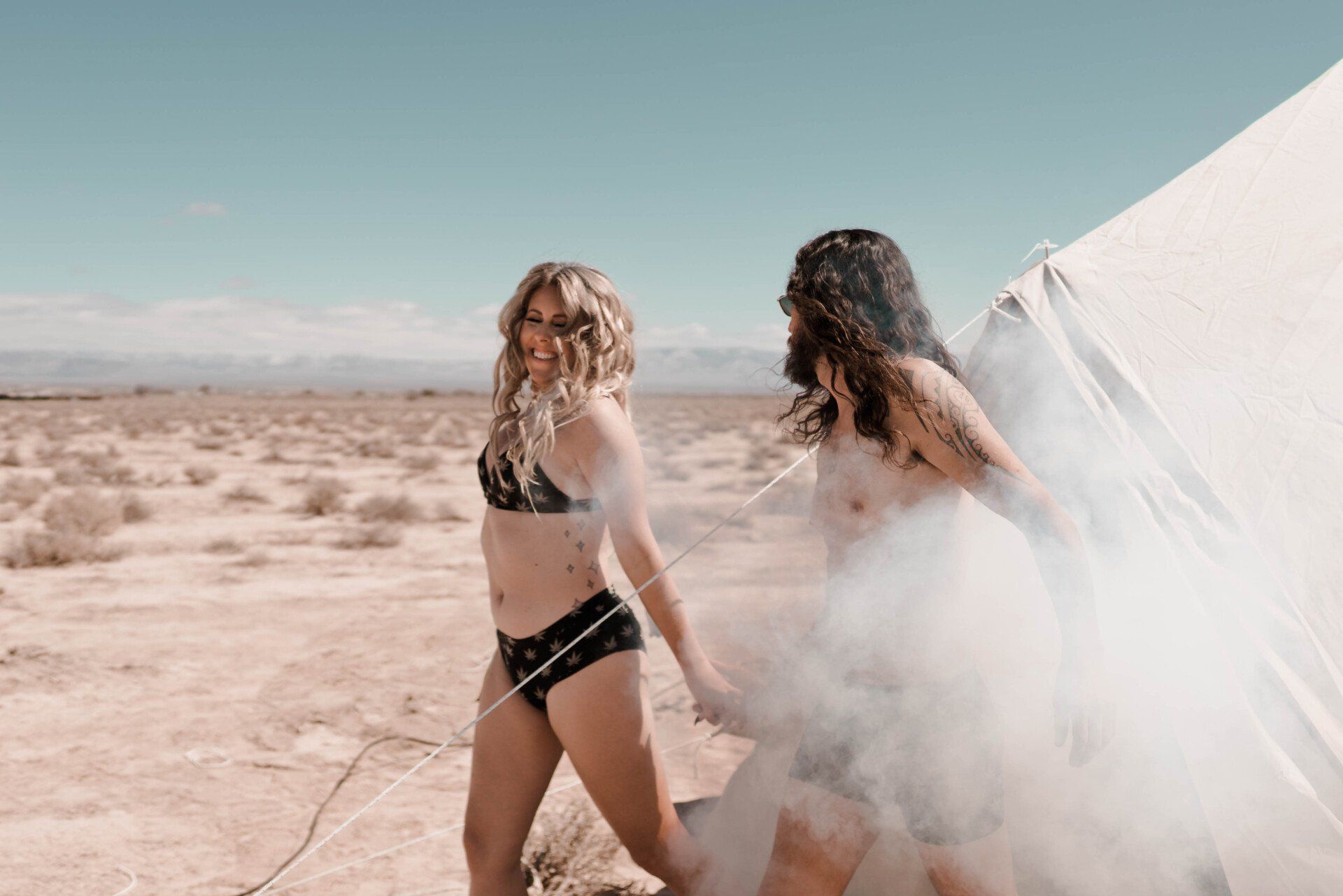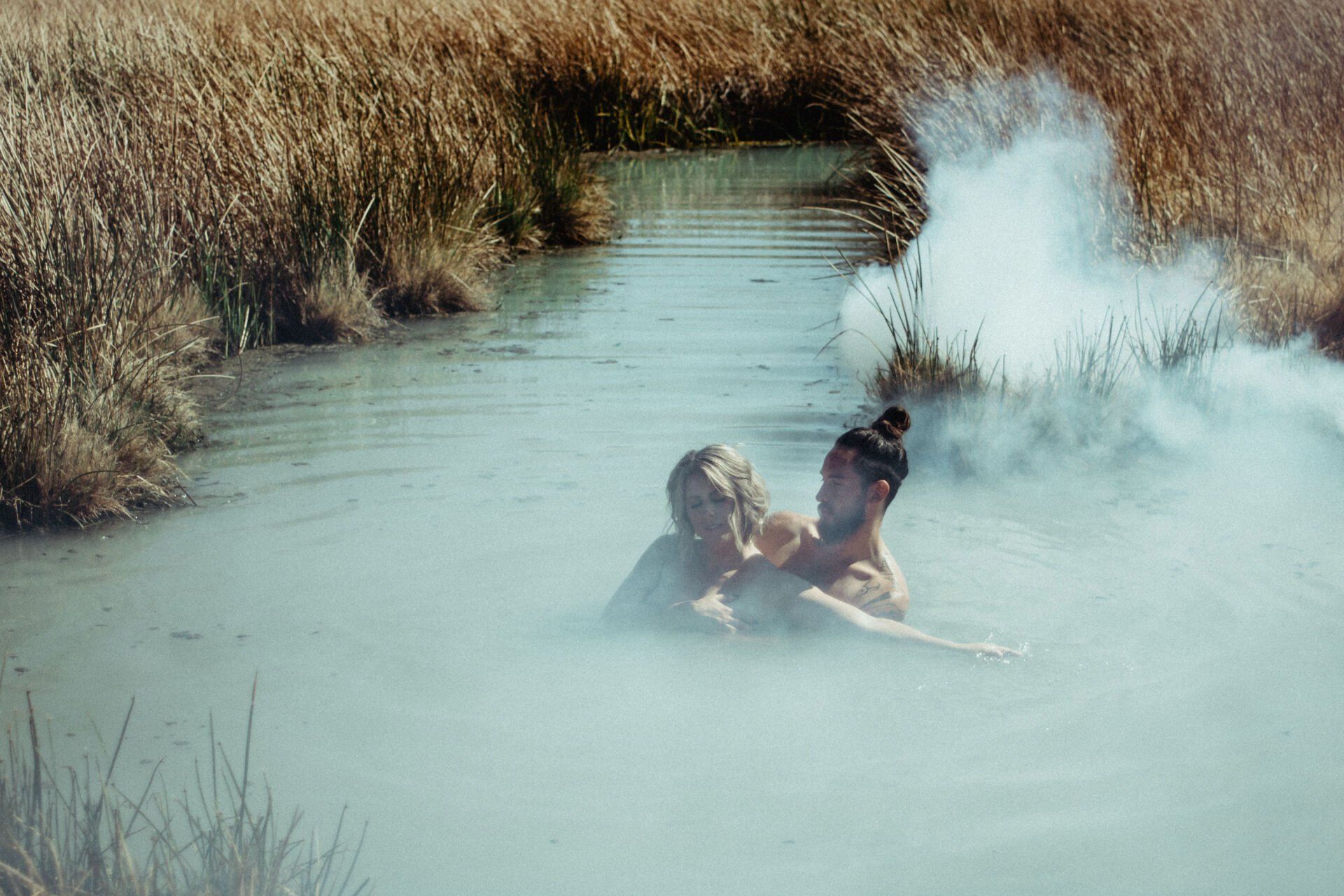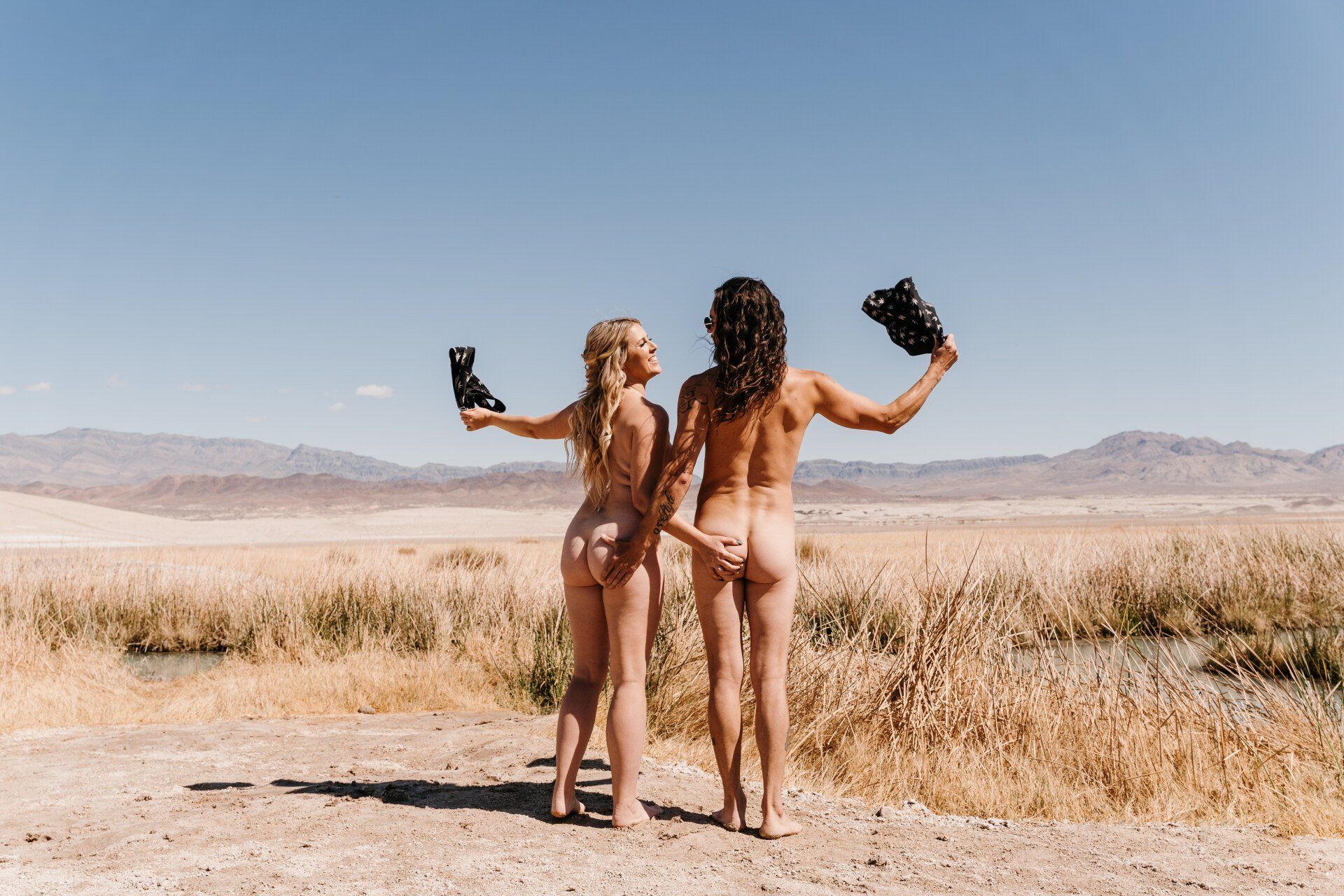 We have to shout out to all the photographers that came that day! They got behind the scenes footage and captured Hair & Makeup making Stacey's hair Hot Springs Ready!
After getting back to Cherry Clouds, it was time to shower and get into the Dress & Tux! But before the ceremony, Pizza anyone? Pizza Stone'd not only provided lunch for all of the vendors that day but gave us several pizzas for the dinner setup after sunset! Madisen's pizza is amazing and coming from a Chicagoan, means A LOT!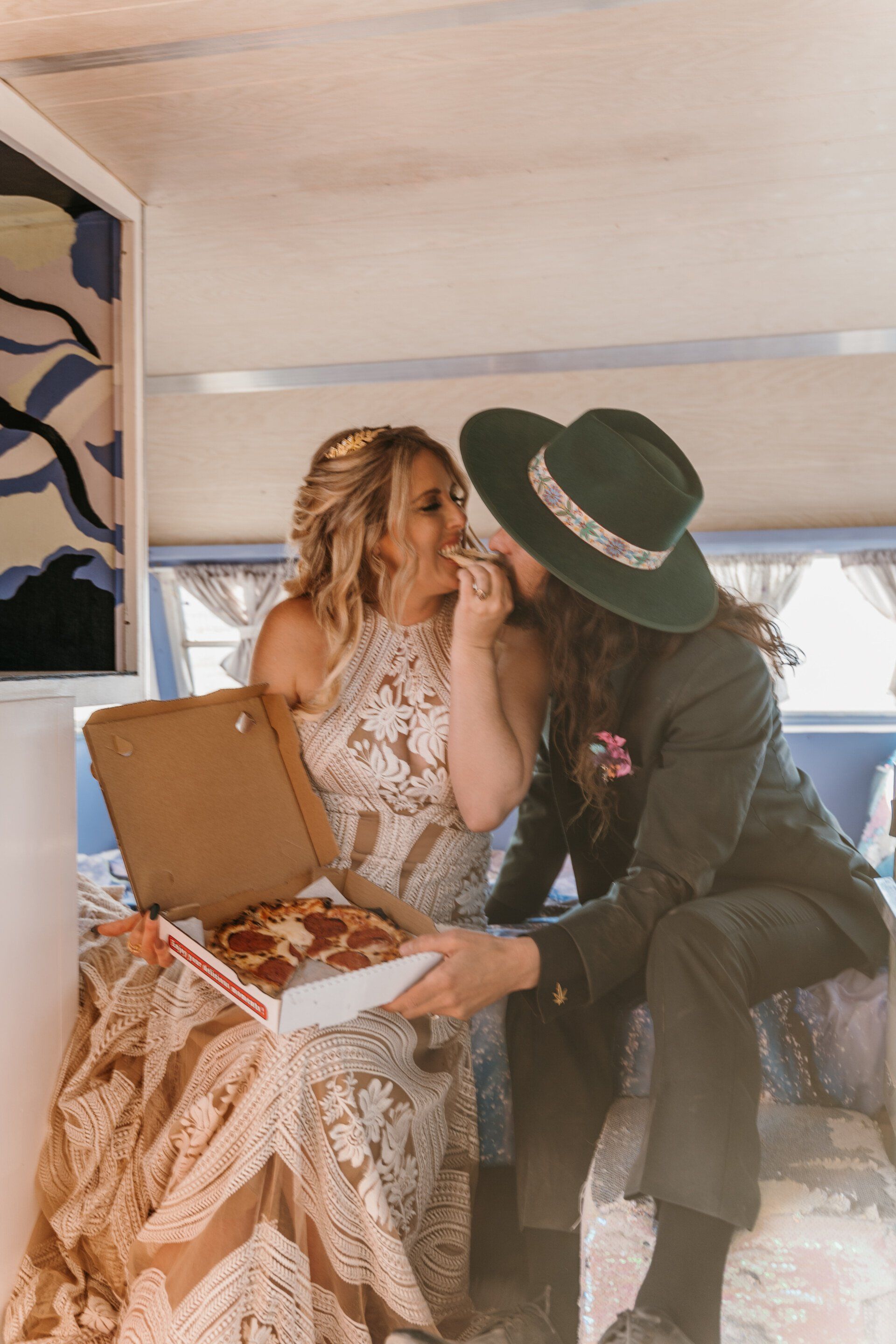 We wanted to stop and stare at the gorgeousness of the simple but stunning ceremony floral and bouquet Miss Daisy and Shop Love Pot provided. Bright florals overflowing with multiple textures and of course weed buds and leaves, make this arrangement my absolute favorite! When asked what vibe I was going for, my response "Like a hippie threw up, with glitter." Jessica took that and ran all the way with it and I am still obsessed.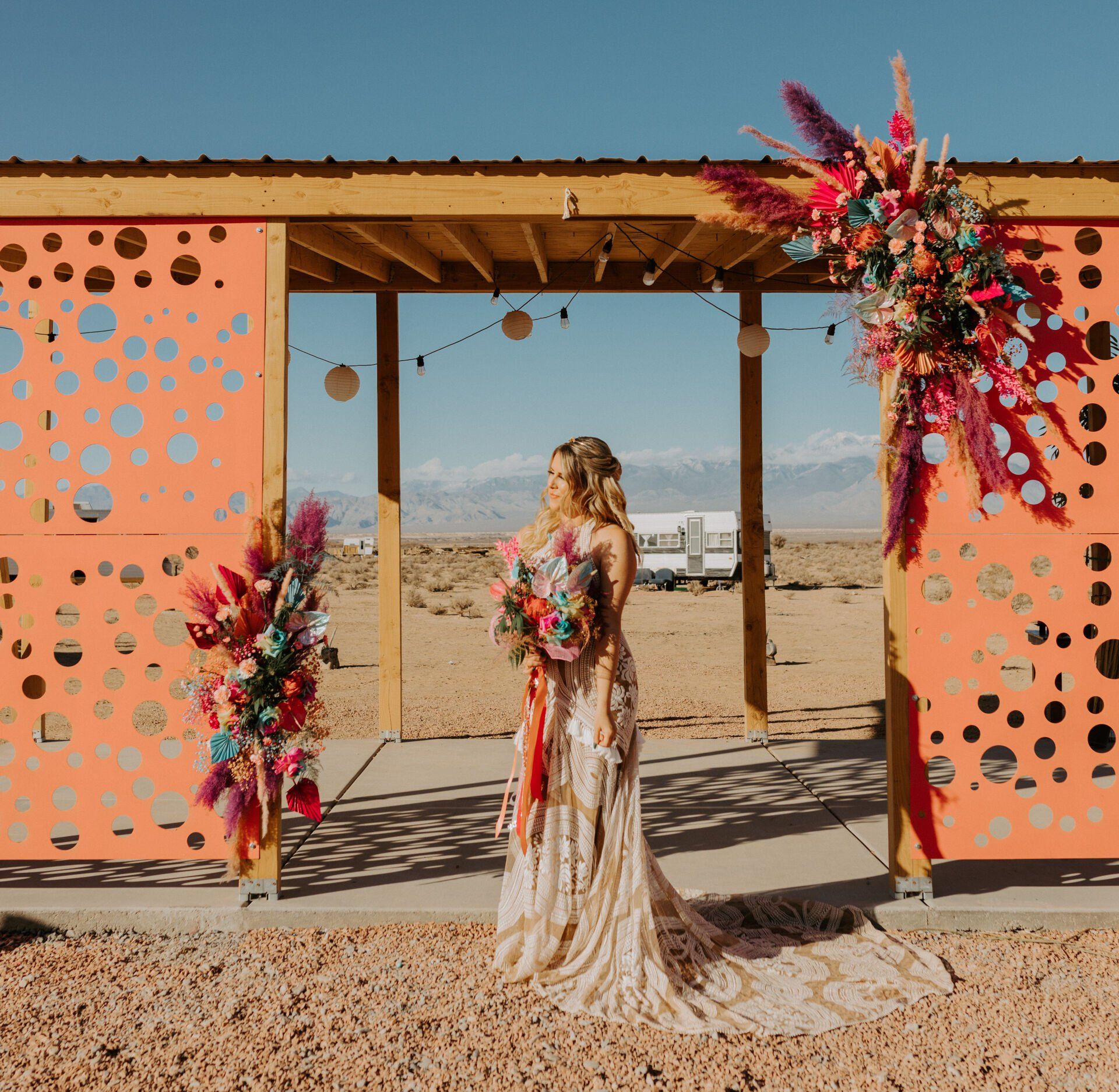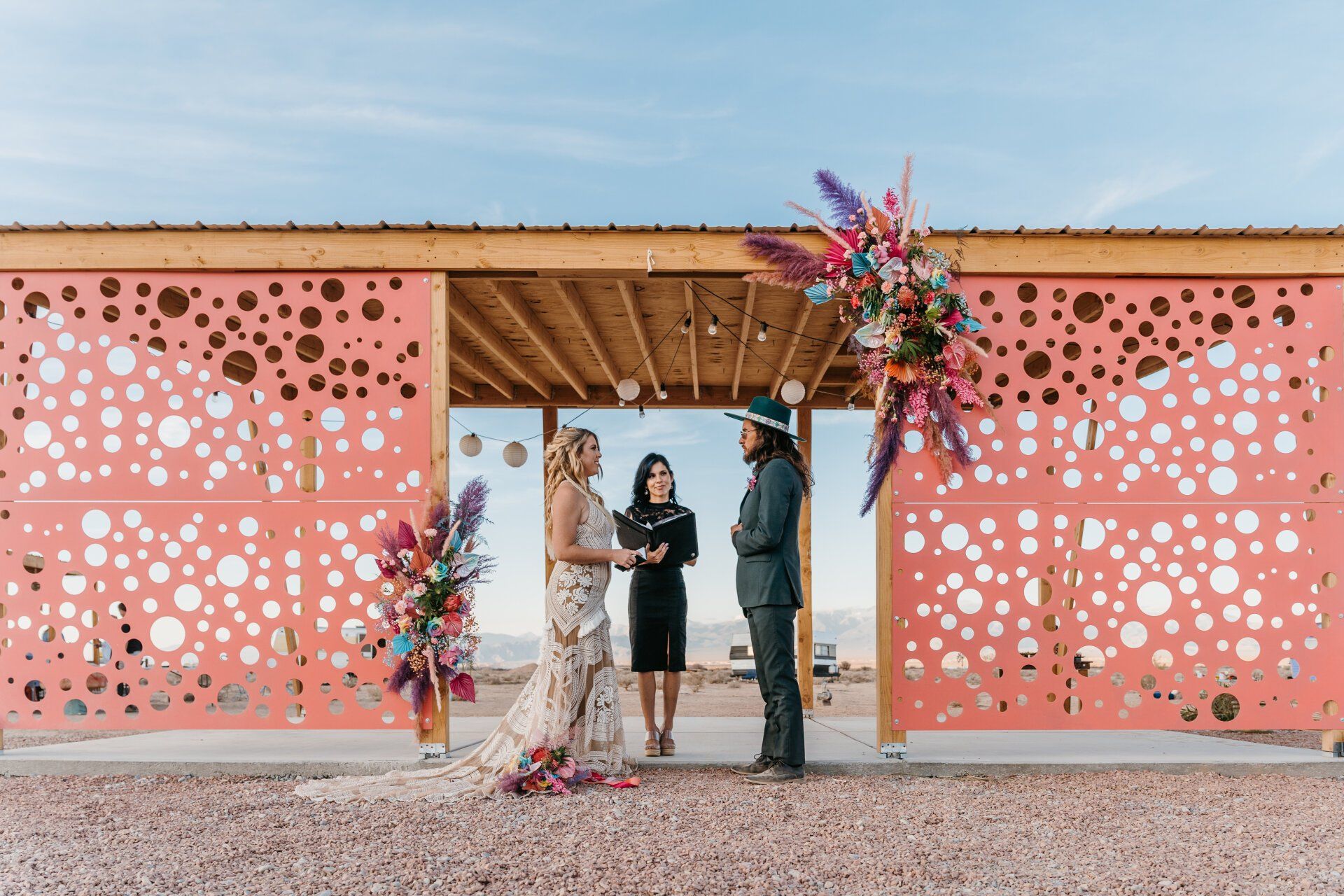 Amanda Monk is a woman of many talents. That day, she put on her Officiant hat and led our couple through a Joint Ceremony. Josh Crooks played Santeria as the Ceremony began and ended it with Better Together. The Joints were provided by The Vegas Tenders and lit by a fun curvy candle! It was a little windy but we made it work and the pics were even better than I imagined.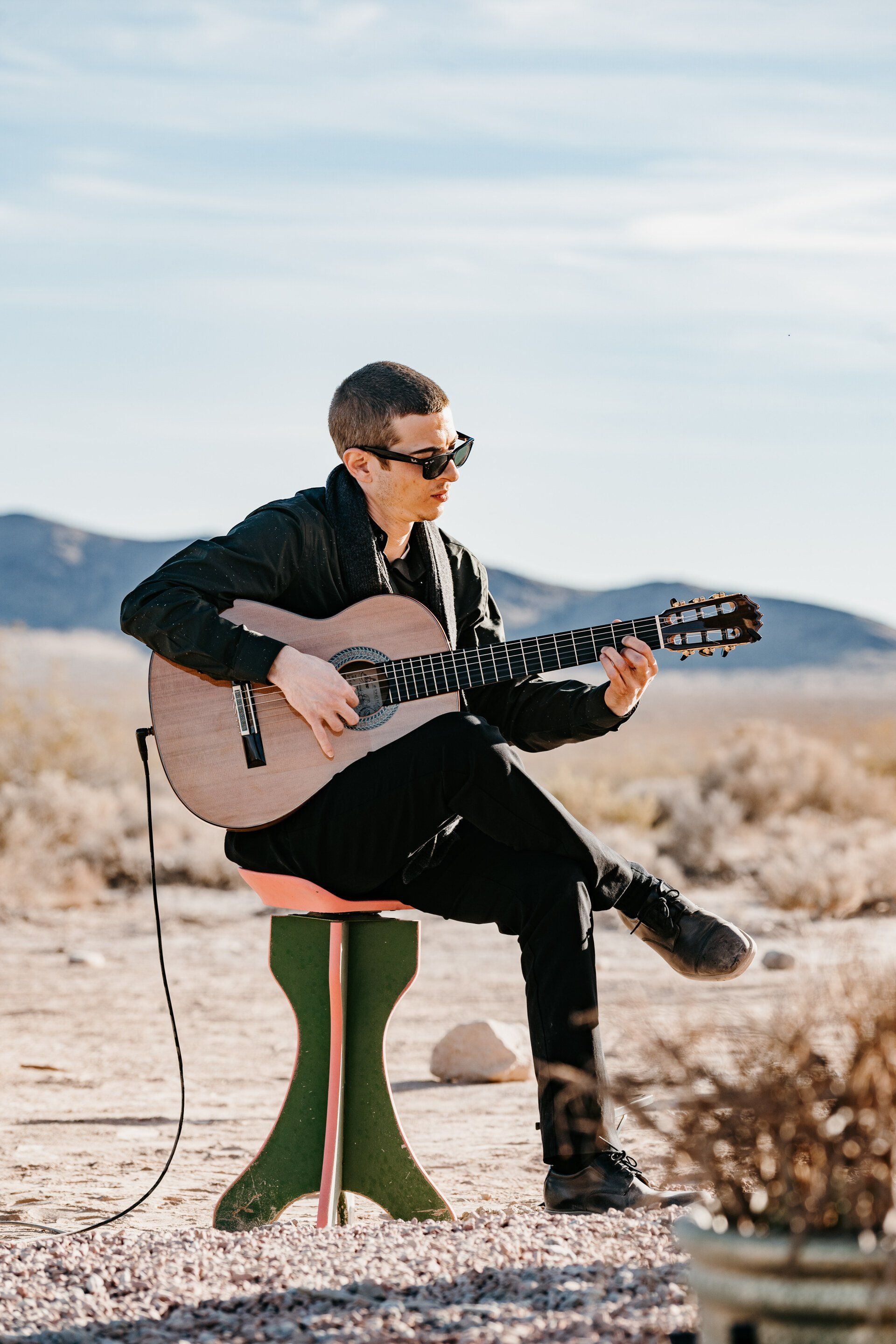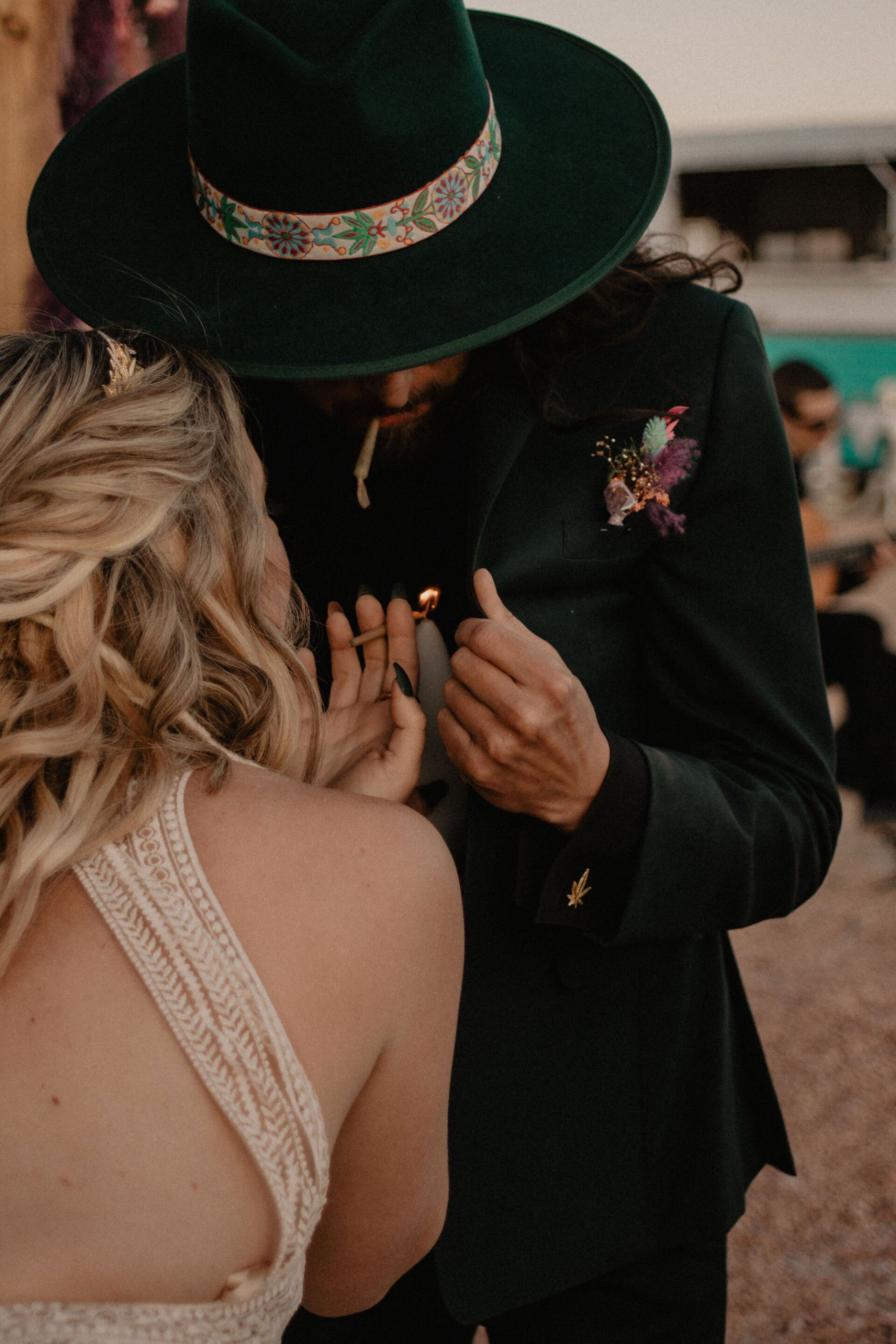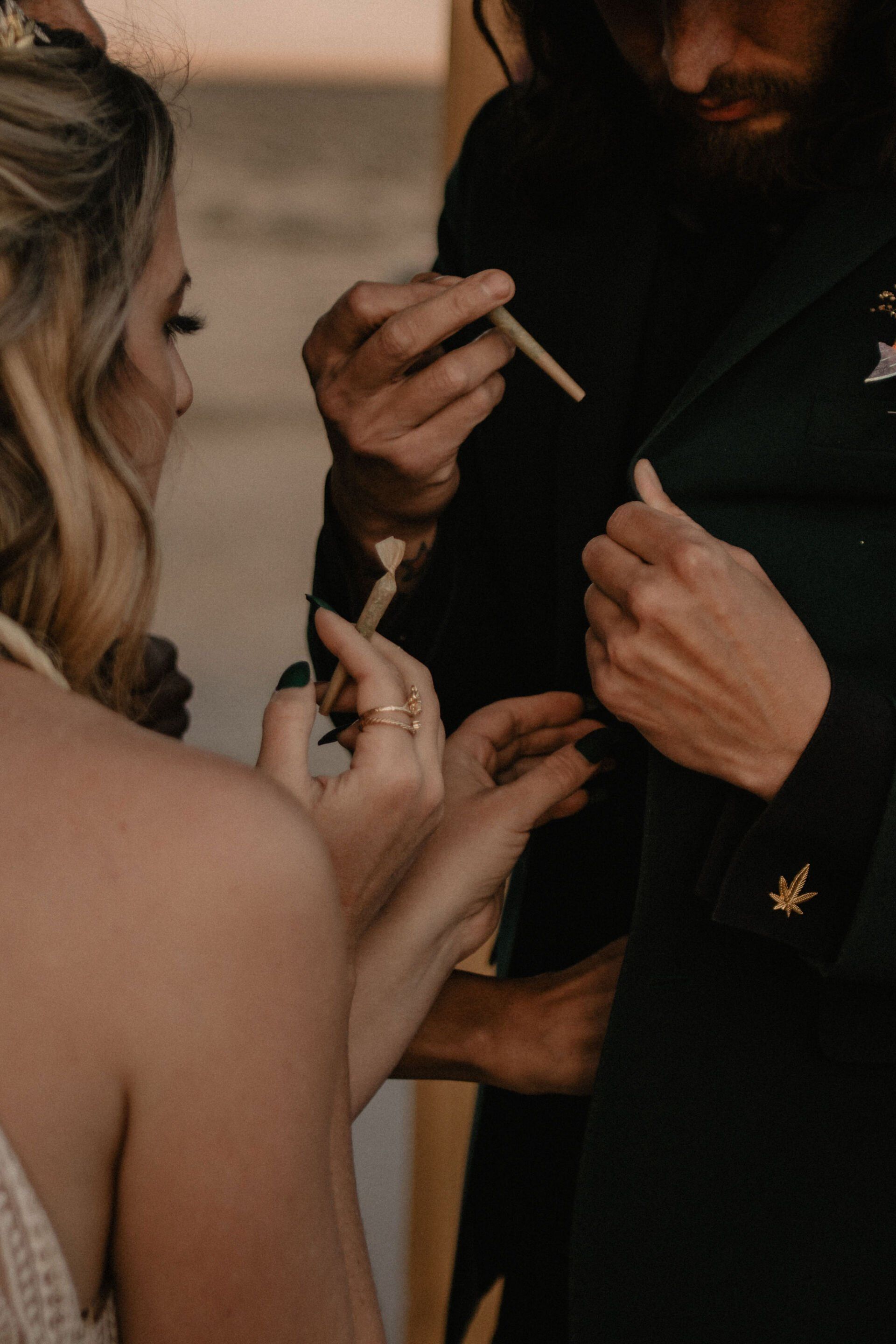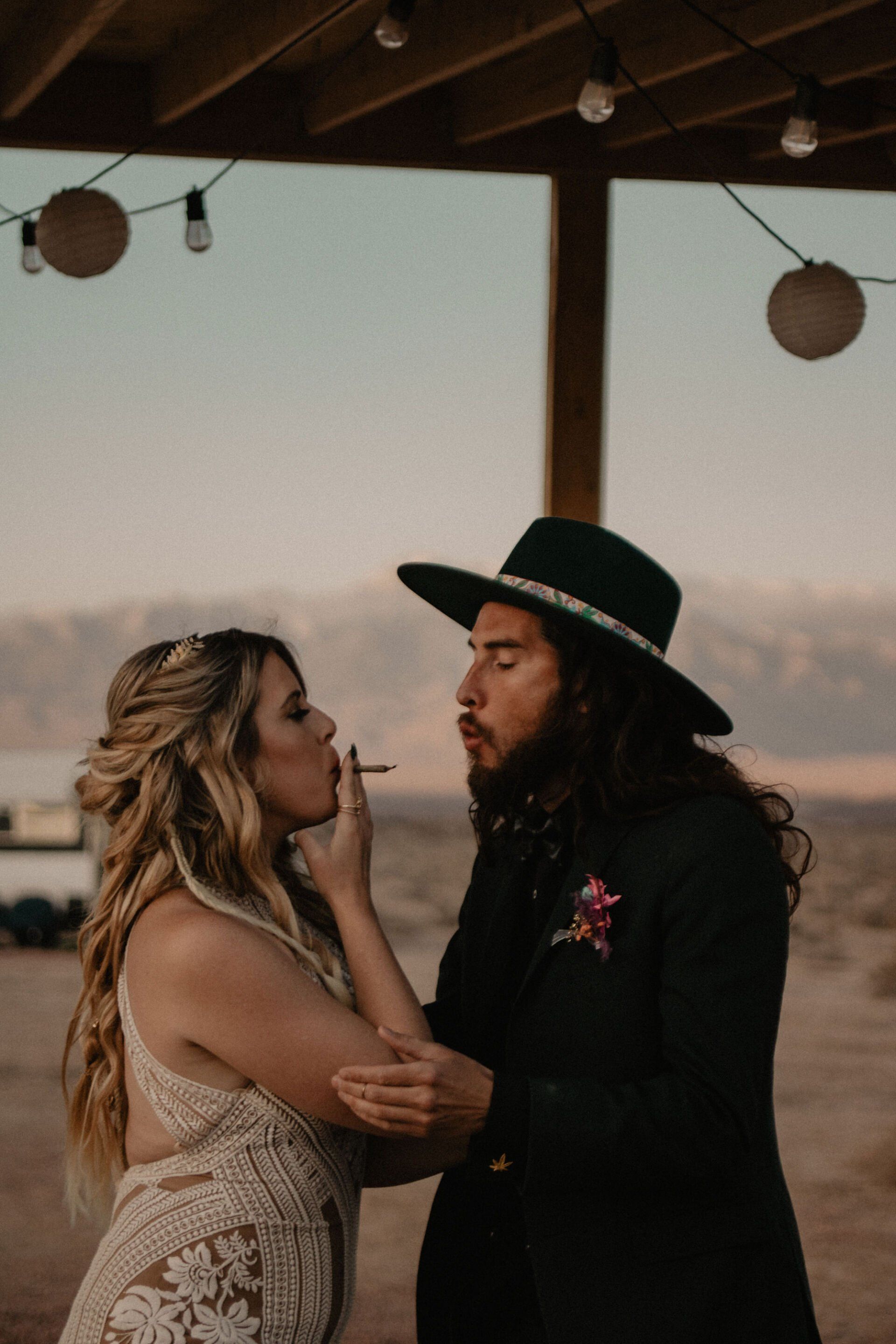 For those who only go to weddings for the cake, you'd come to this one. This AMAZING cake was created by Caked and as always, they never disappoint. Ricky even created chocolate hand painted nugs and gold sprayed leaves! The cake, a double chocolate with dark chocolate ganache. Think the cake from Matilda. Liko had the idea to do an American Gothic pose and it quickly became my favorite photo.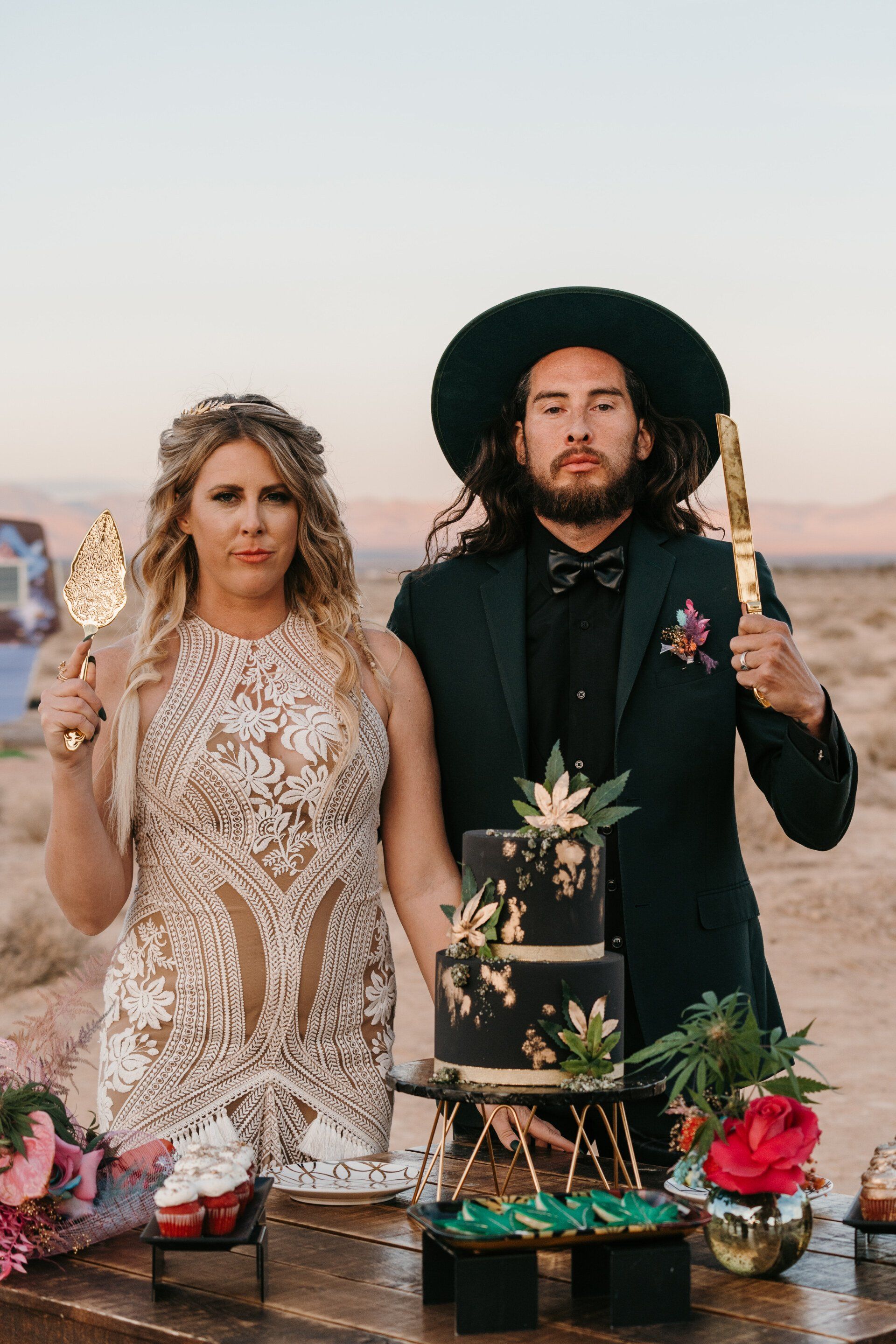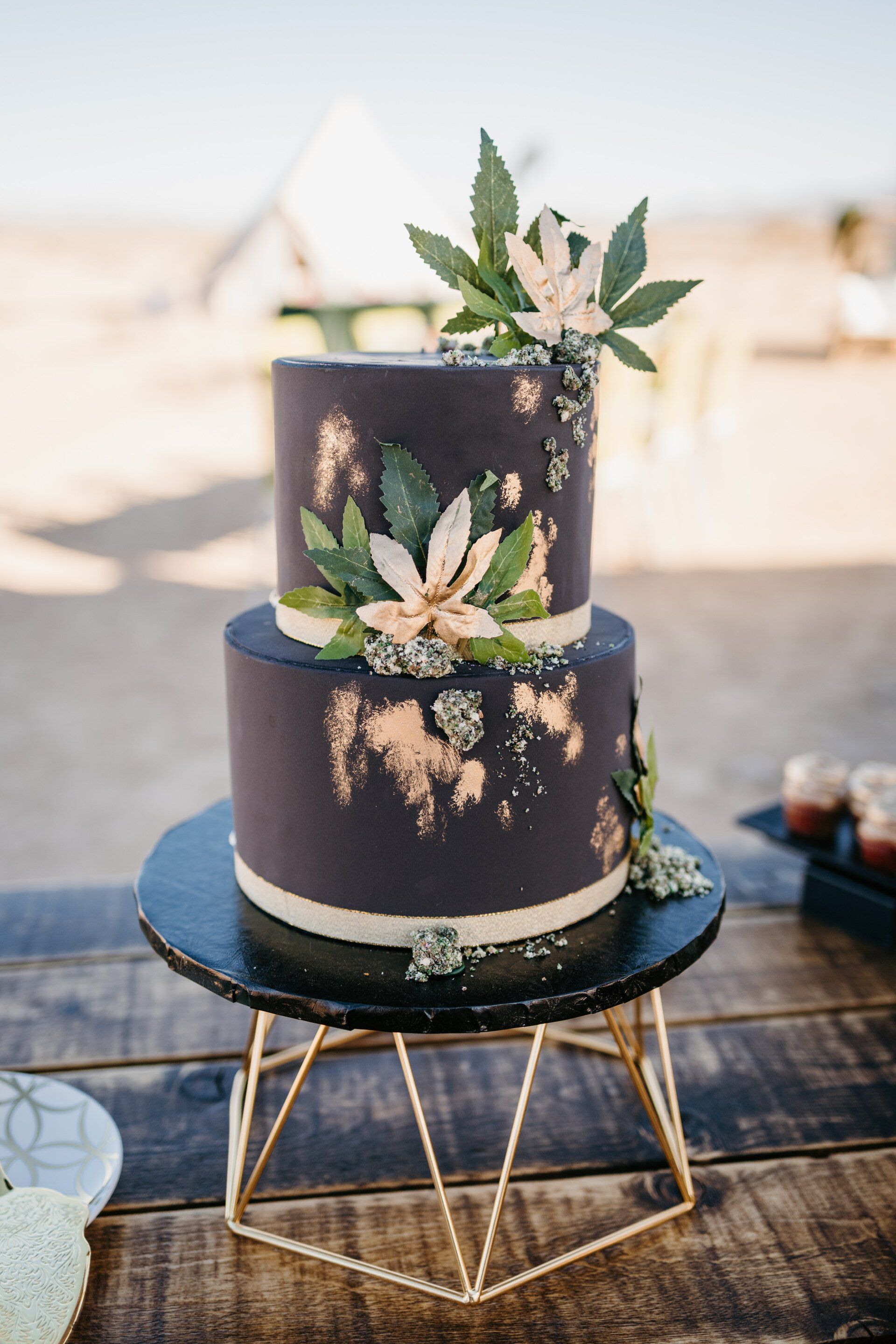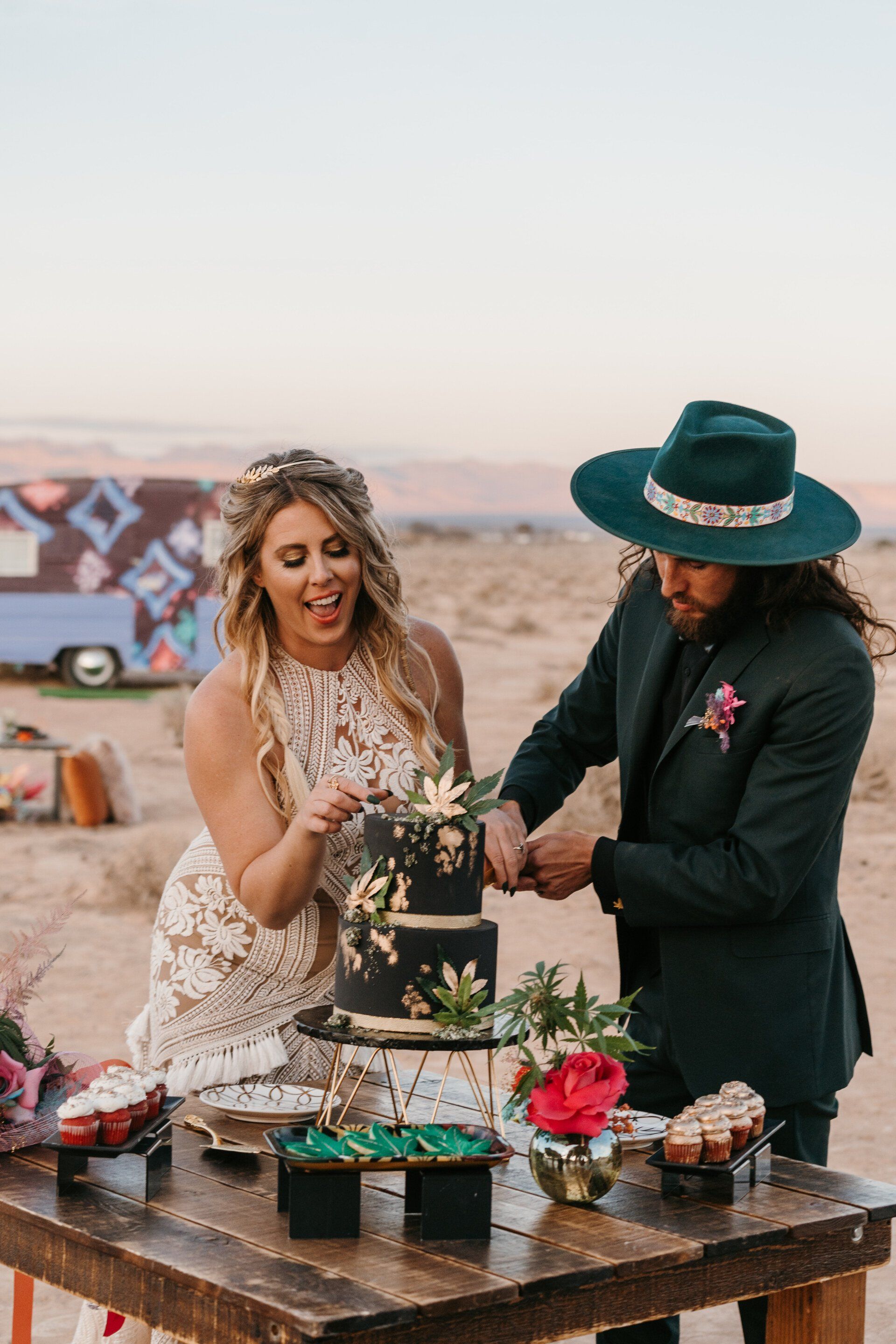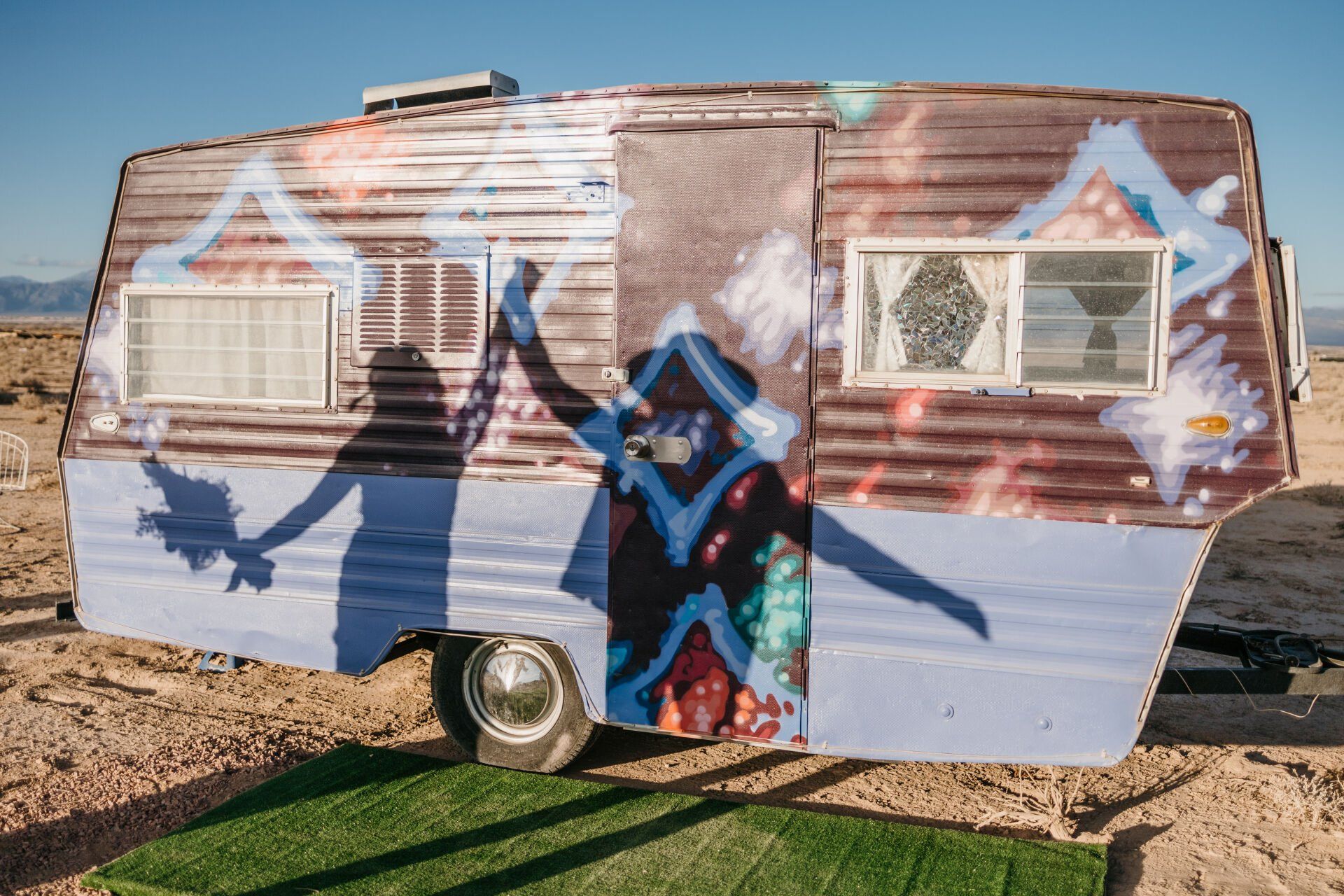 After cake, we had to wash it done with some infused cocktails! DUH! Trixie's Mobile Bar! Toni brought her adorable trailer ready to go! She had the nicest props and brought the prettiest glasses. The drinks: a Stoney Negroni & Marga-Weed-A! Both were so good and I found myself needing a lunch break sooner after testing the products… you know for quality control! Valerie Cana created the prettiest drink menu that matched the very in theme Invitations.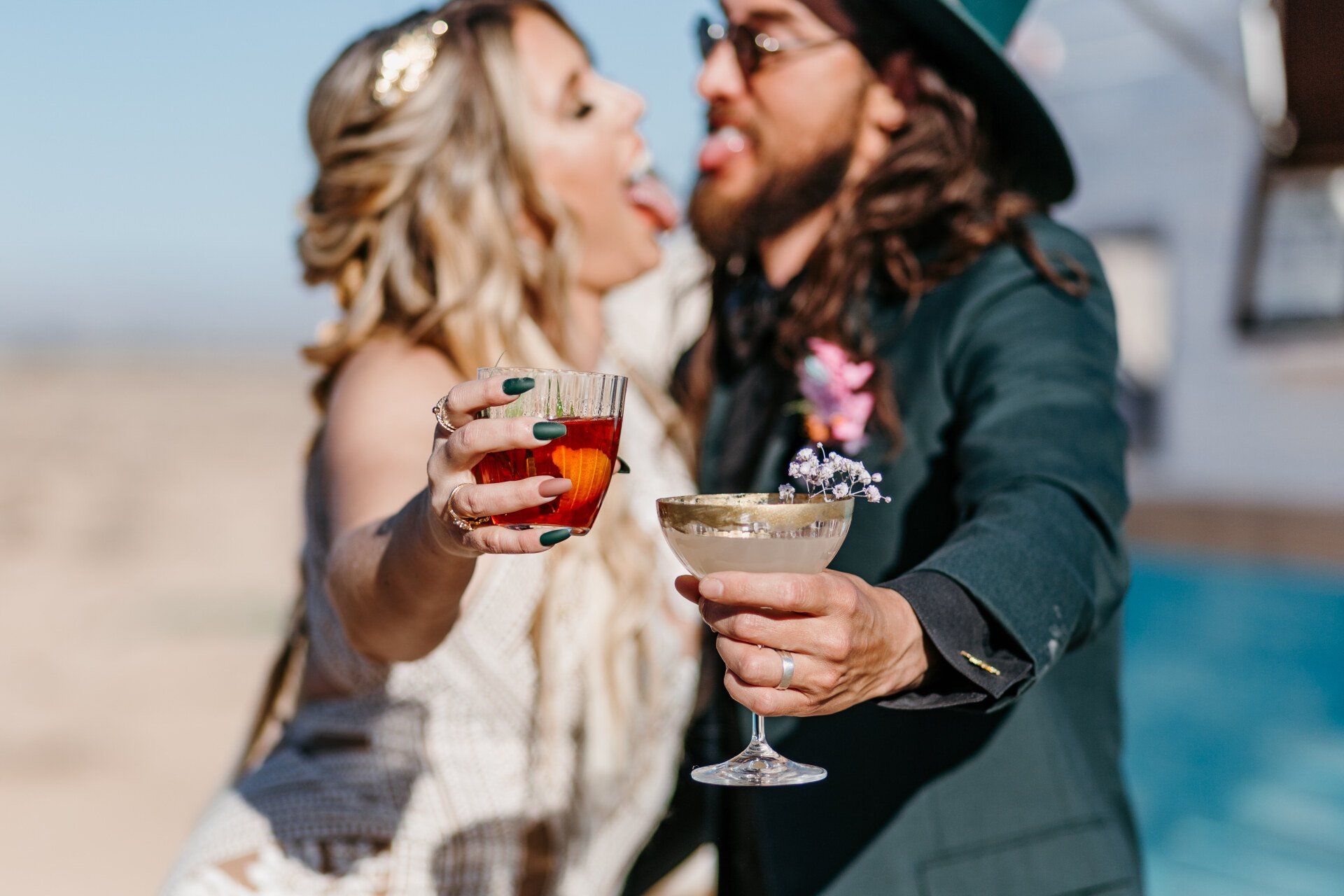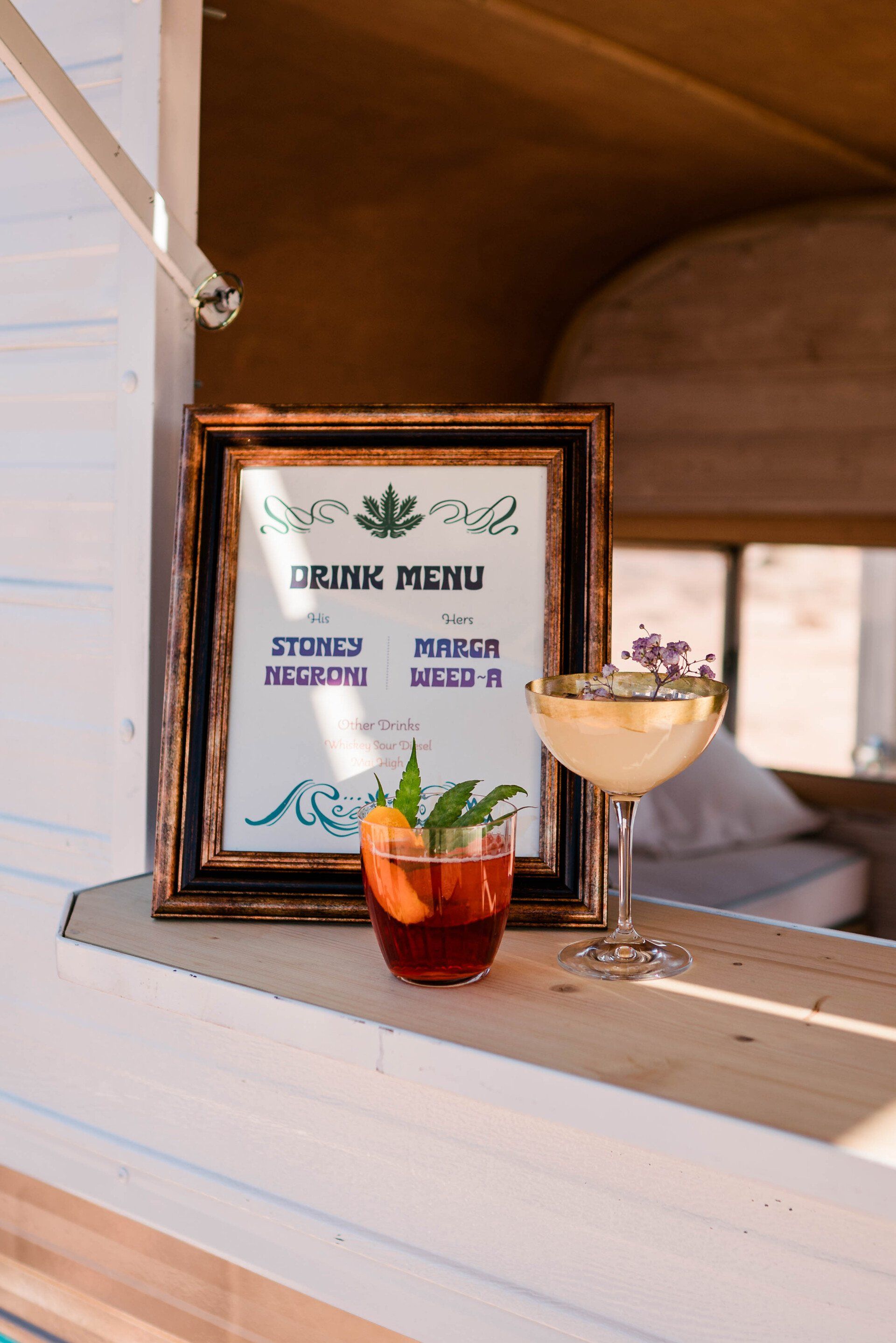 Moving right along to the very cool Budtending Table provided The Vegas Tenders! What's better than having your own Cannabis station for you and your guest? Probably nothing. Stacey and Liko got to try more infused drinks, different strands presented in different ways and my favorite, a custom designed Bong!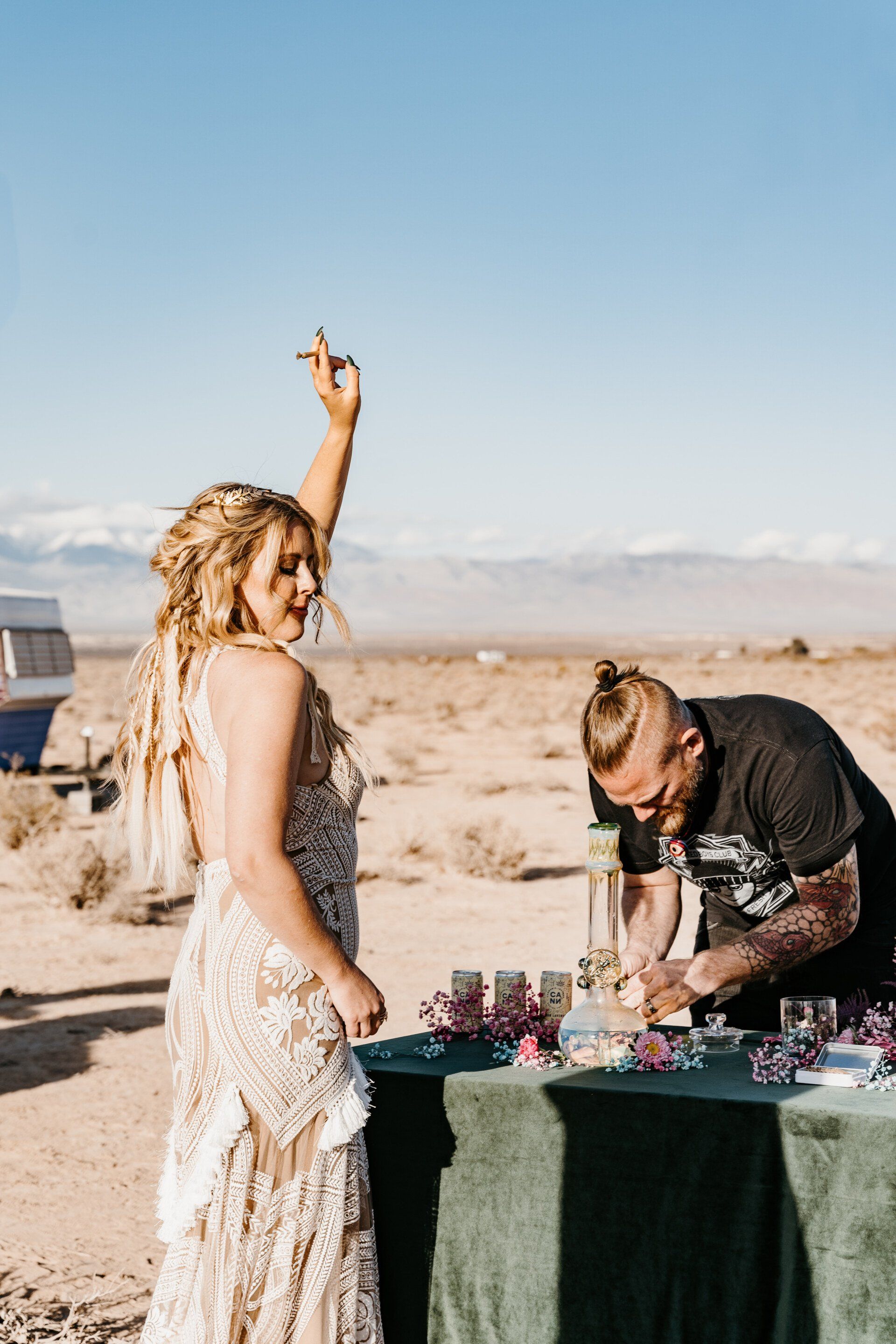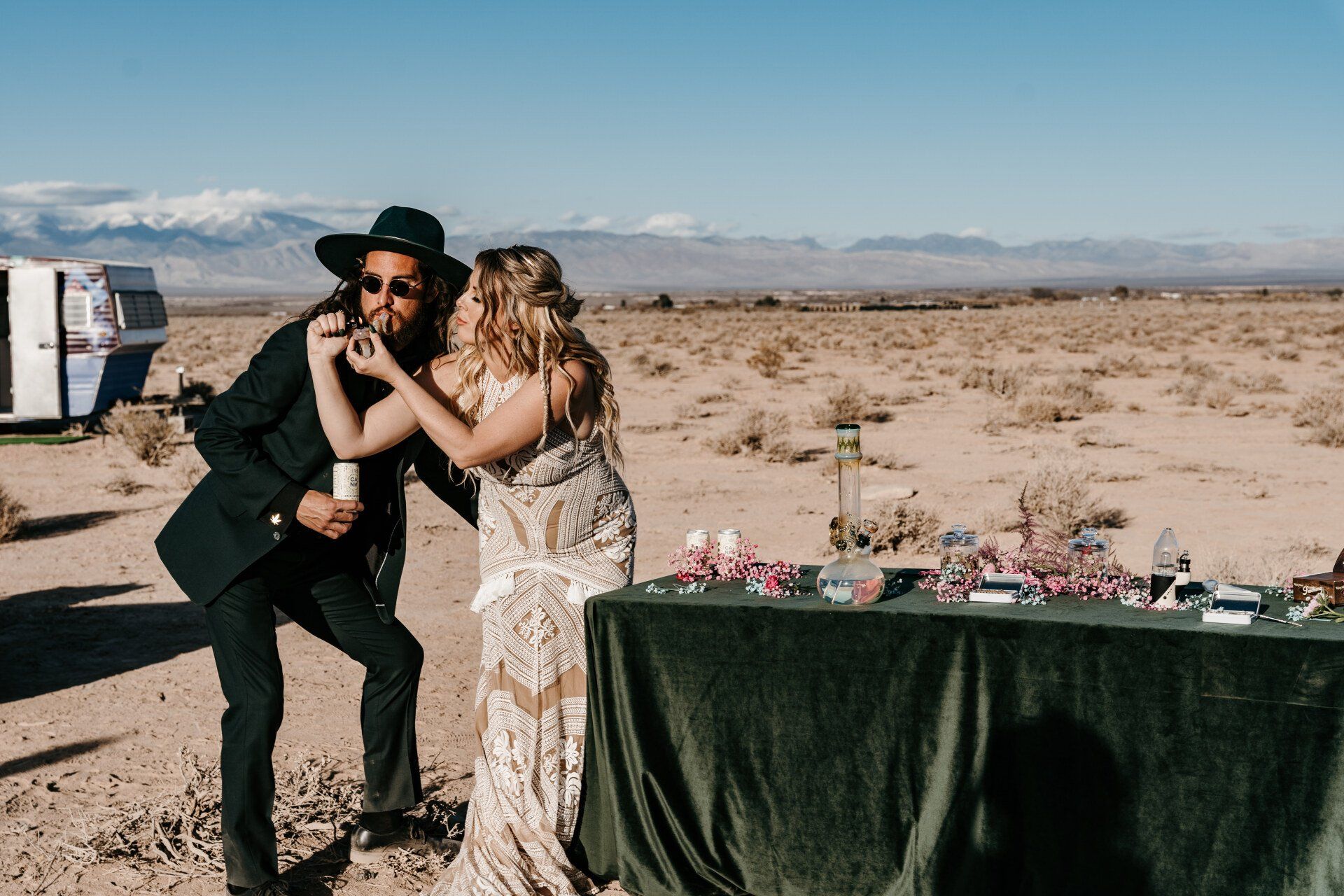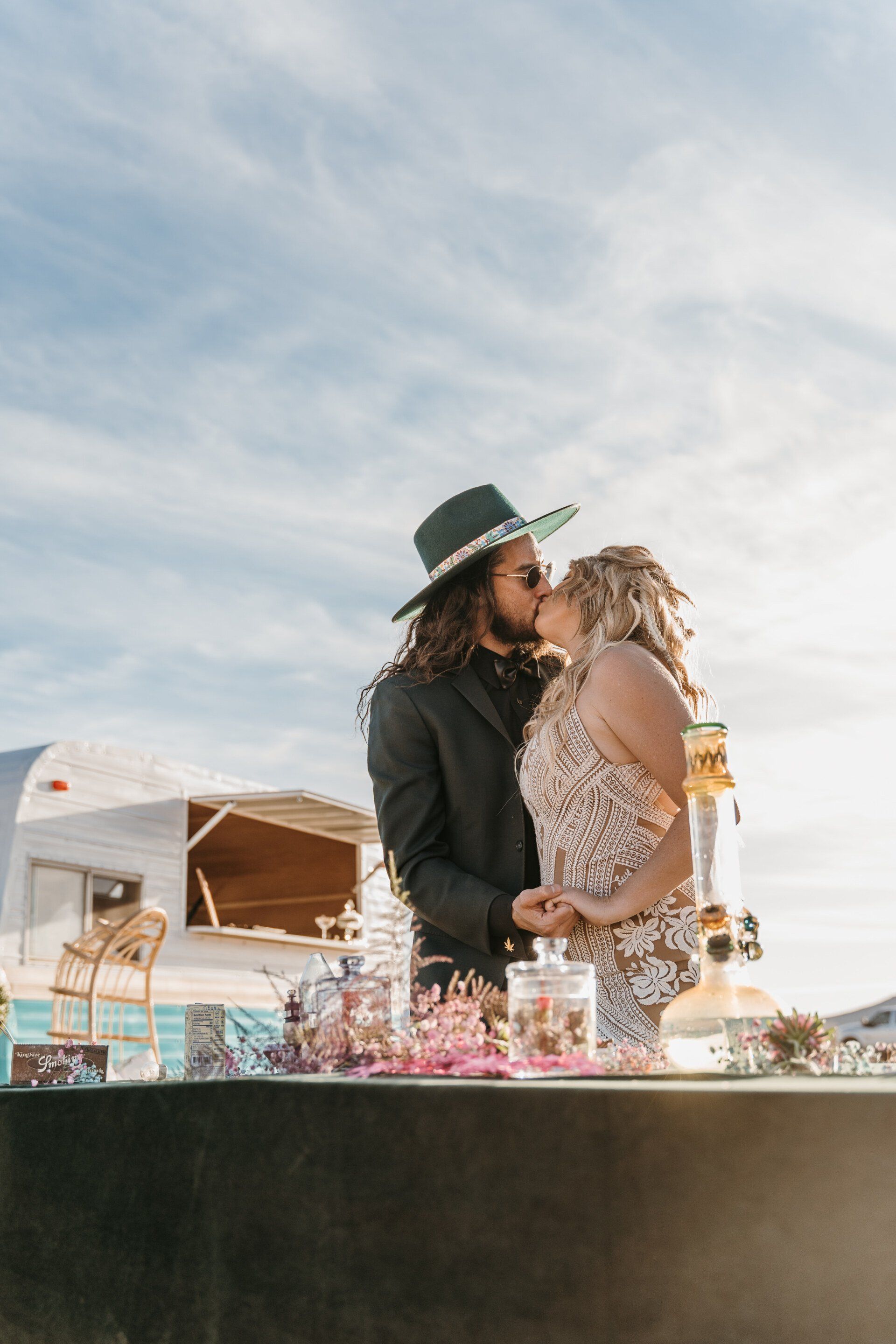 All the smoking had everyone ready for Dinner! The most colorful Sweetheart table was filled with the prettiest rentals, unique centerpieces (in bong vases) and a little gift for the groom (as the bride was all toked out)! For the guests, a spread to satisfy even the hungriest! Pizza Stoned provided an array of pizzas, crostinis and salads (made the pizza's tableside)! and Trixie's Mobile Bar provided the yummiest drinks! We can't forget the gift that keeps on giving… Foody Flyz gave us an infused bottle of Olive Oil to take the meal and the guests over the edge!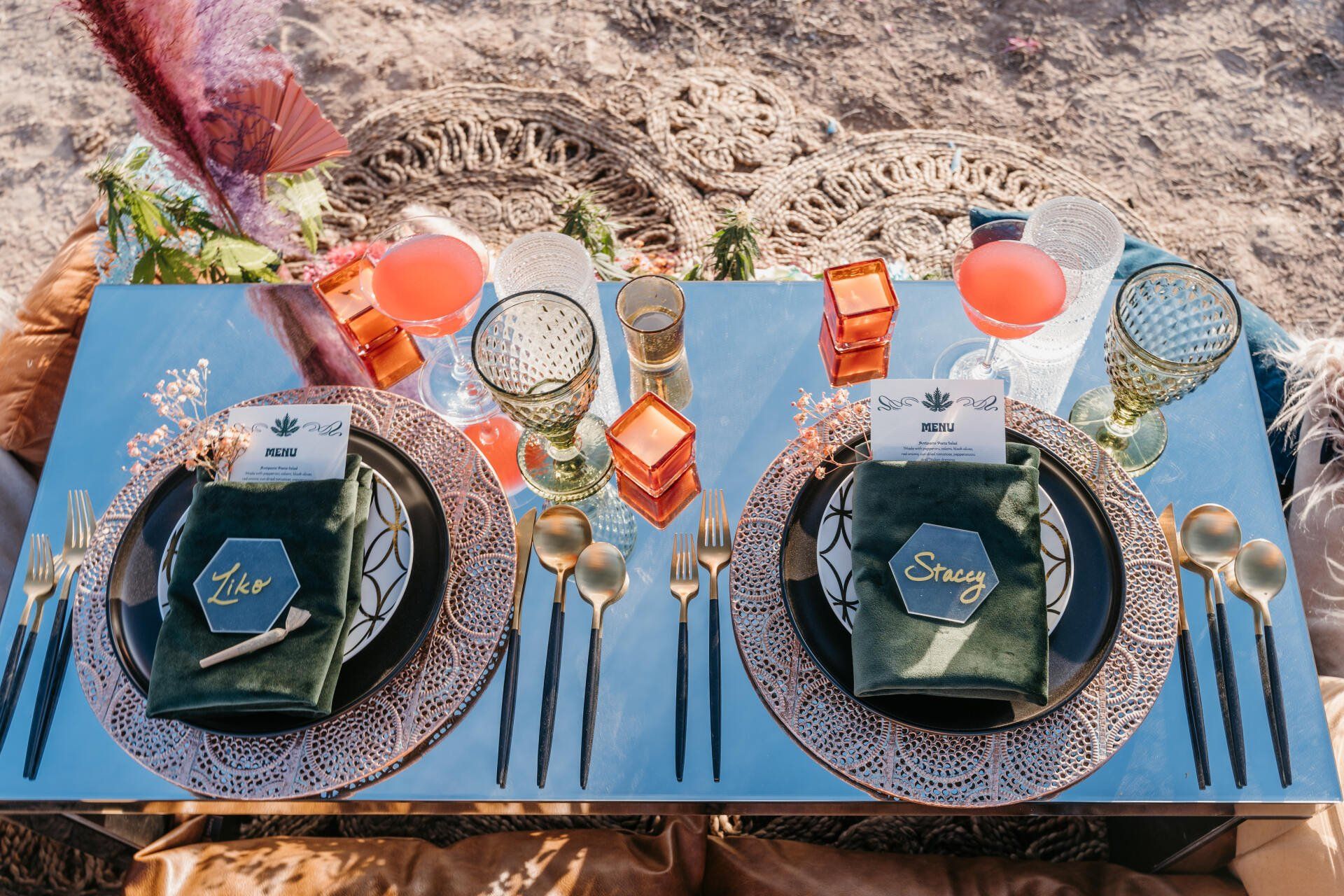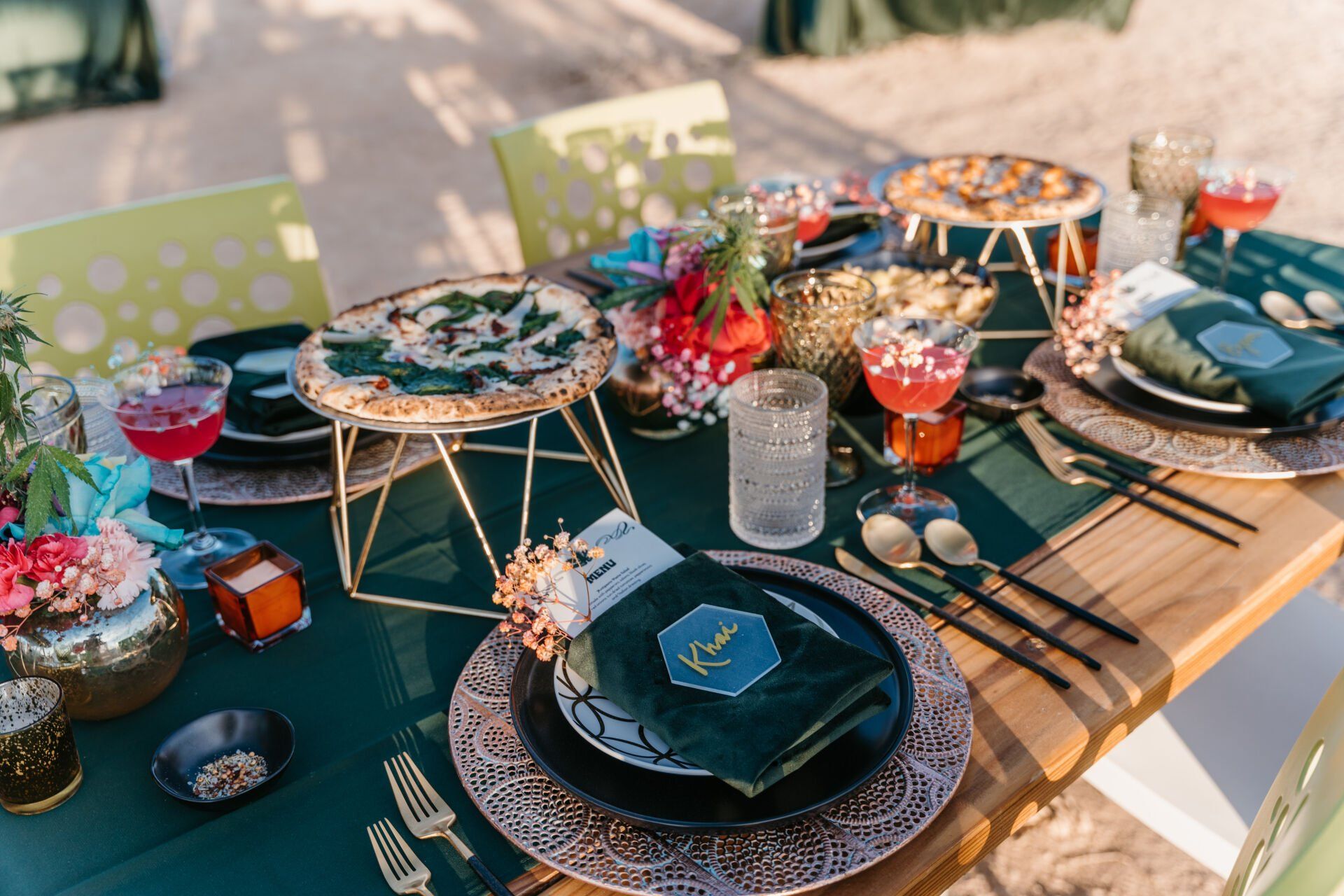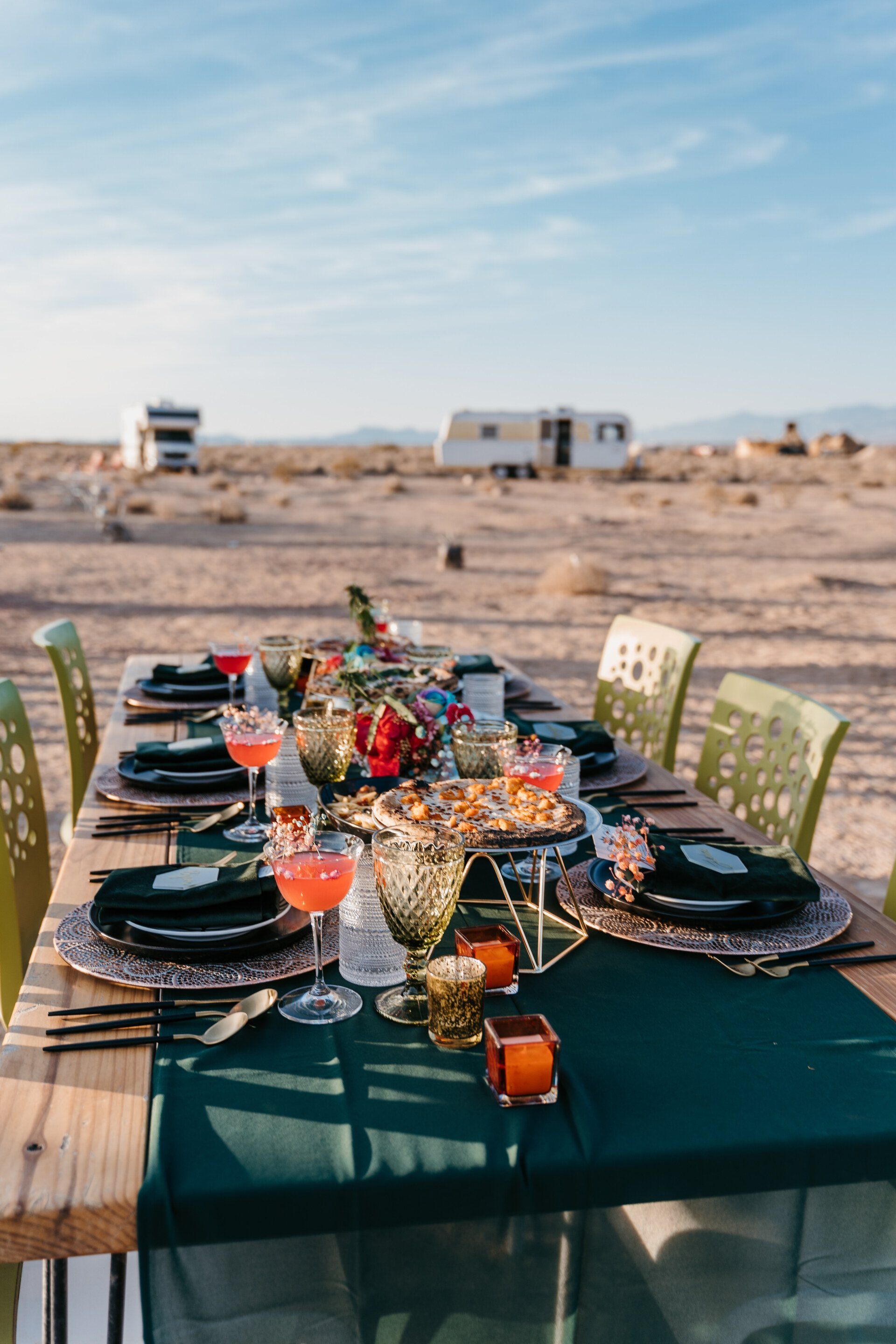 As the night came to end, dancing began! Trev Productions lit up the dance floor with string lighting, a gobo and the perfect dance party commenced! Can you imagine you & your guests dancing the night away under the stars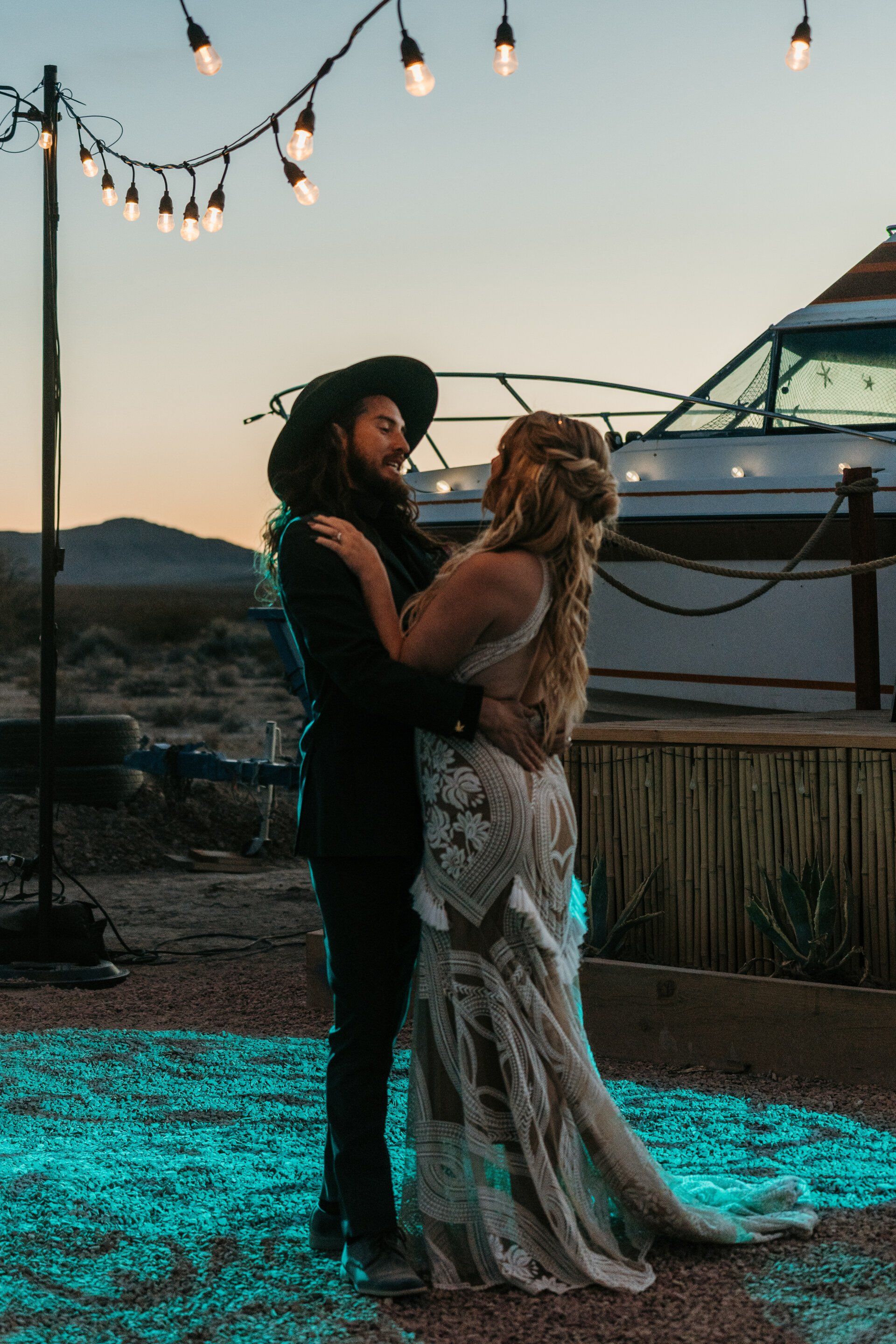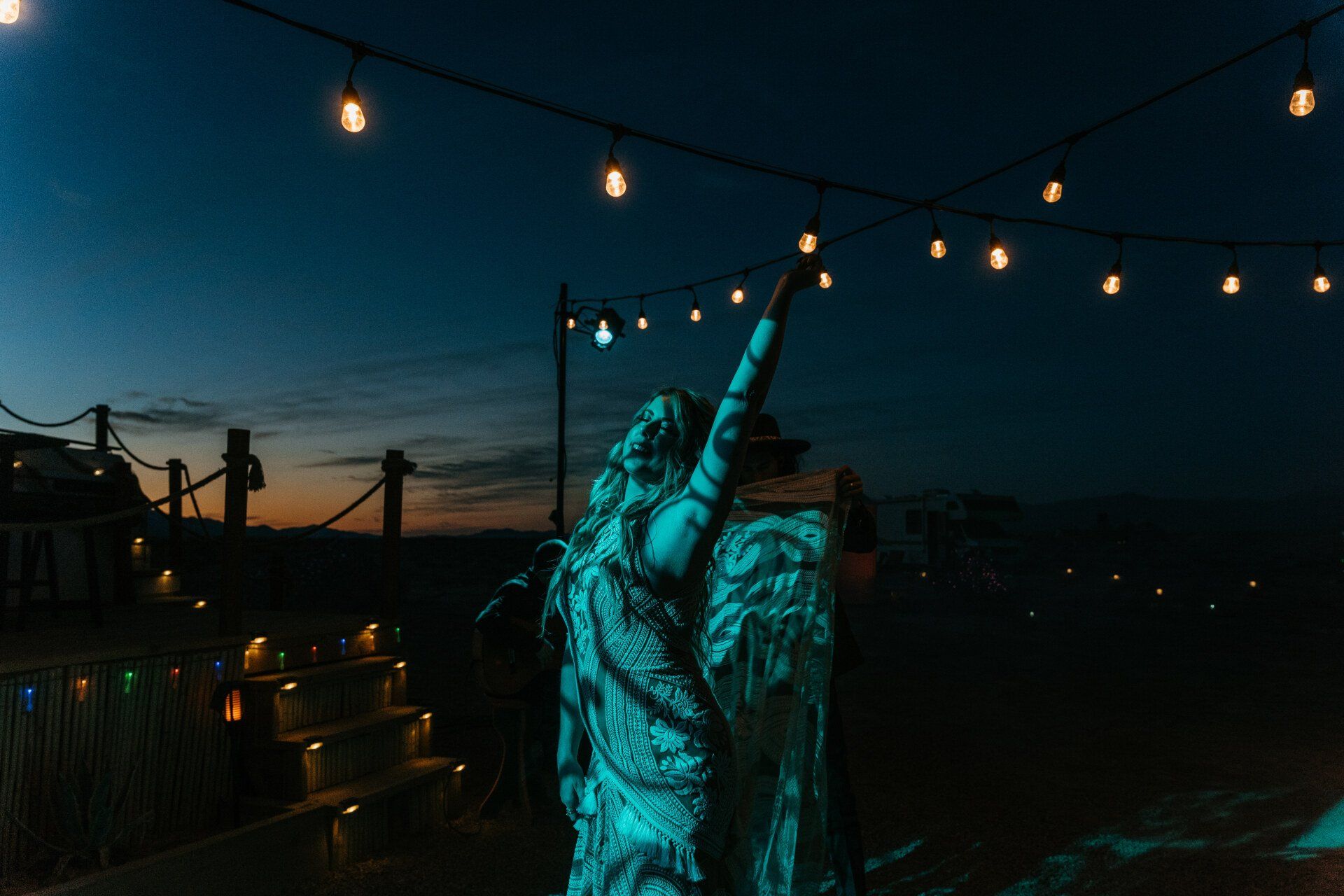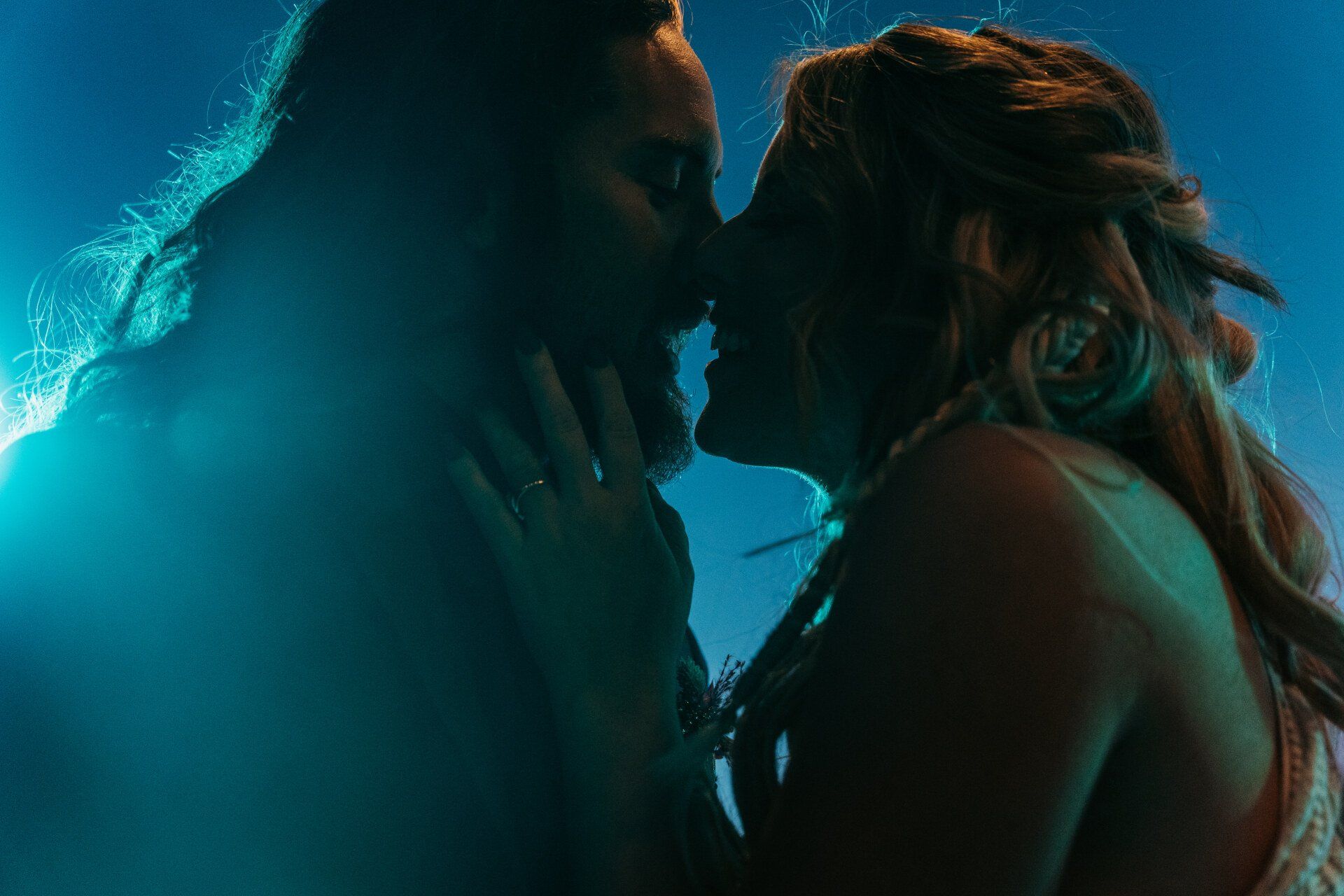 I can't close this blog without paying attention to the details of this shoot! The boutonniere was so small and perfect but packed with so much color & the tiniest bud leaf! Liko paired the amazing green tuxedo from Friar Tux with his own hat and it worked seamlessly! I truly can't get over how beautiful the Bridal Bouquet was. Miss Daisy and Shop Love Pot created something so colorful, feminine and fun then accented with weed leaves and buds while still keeping it romantic and tasteful.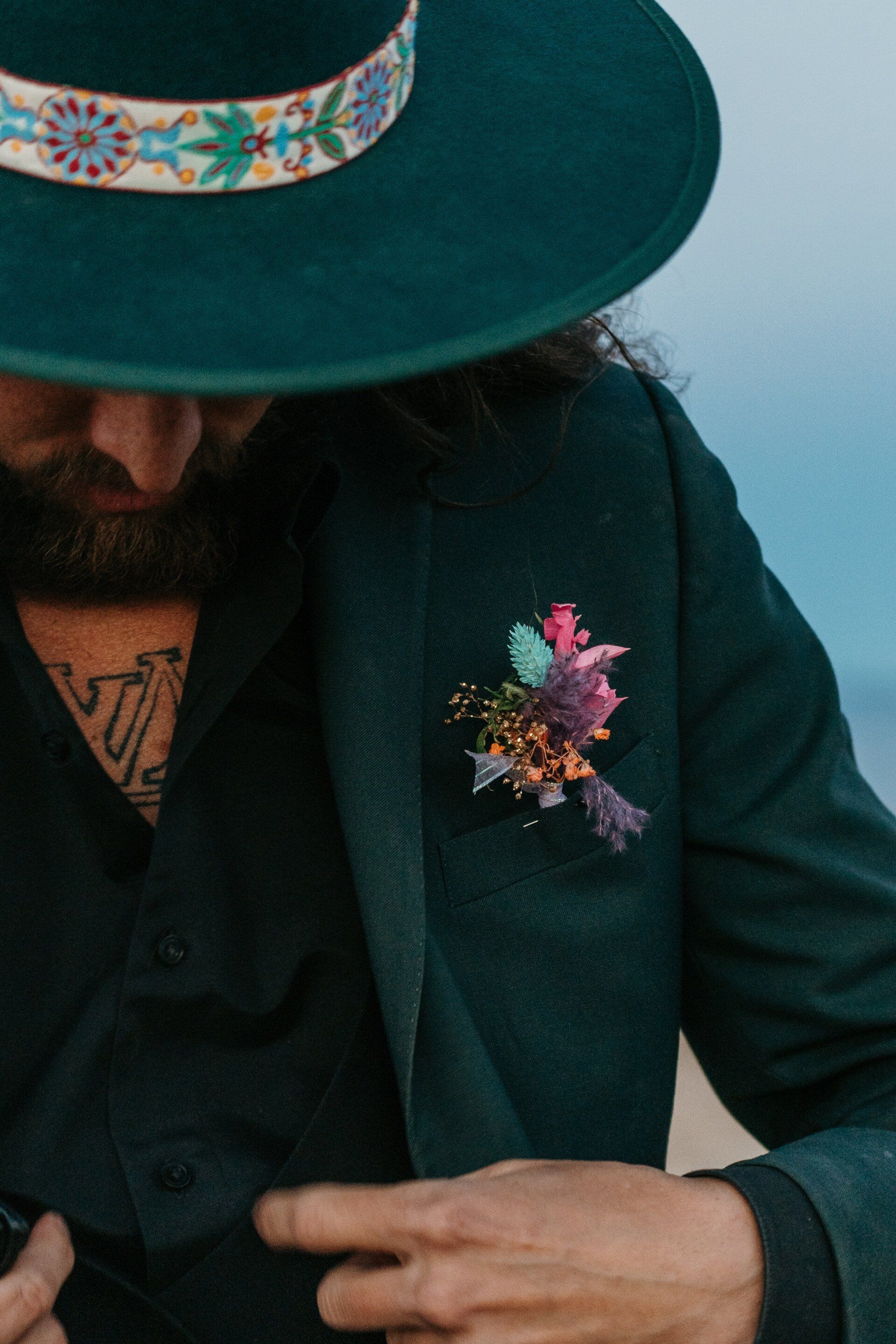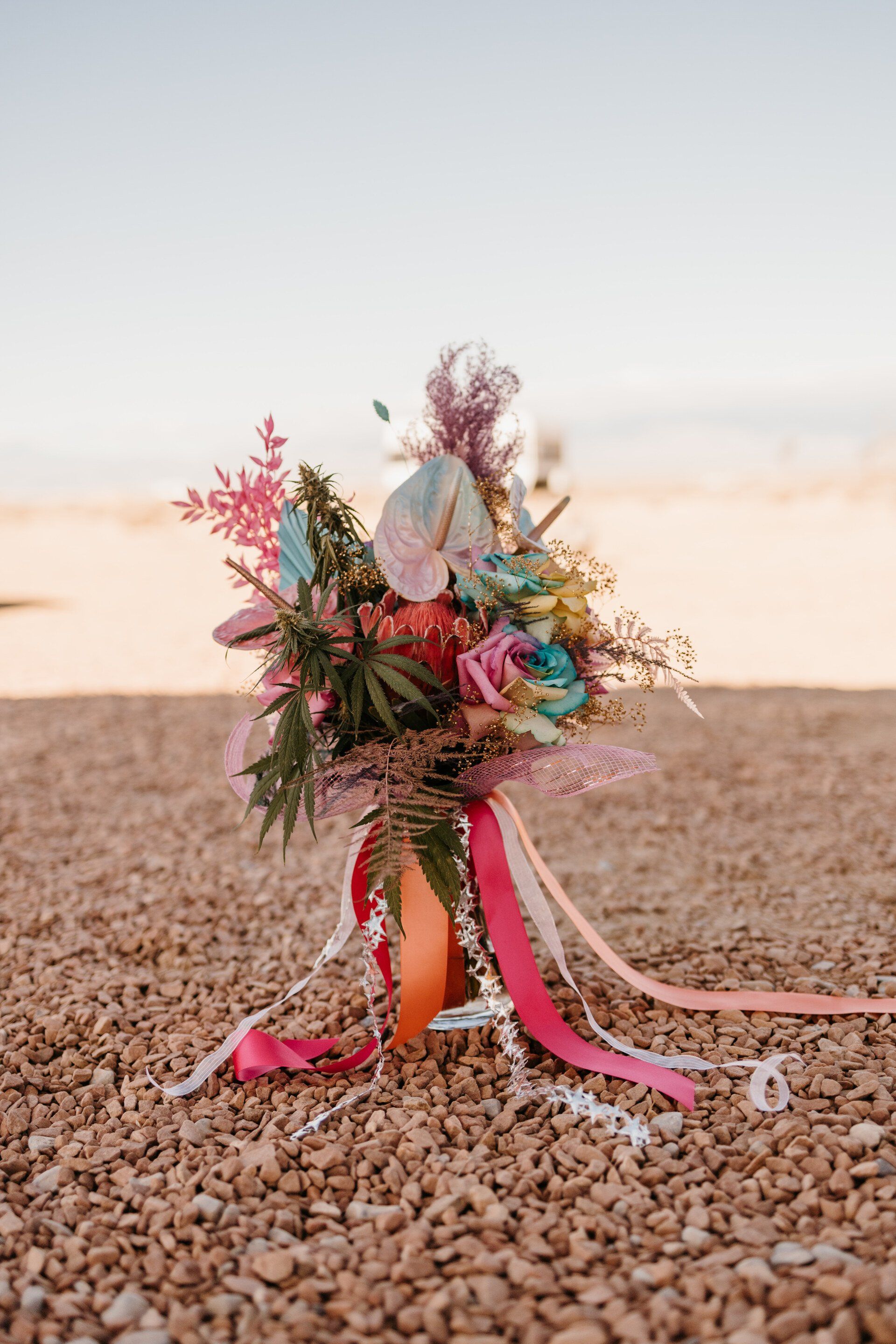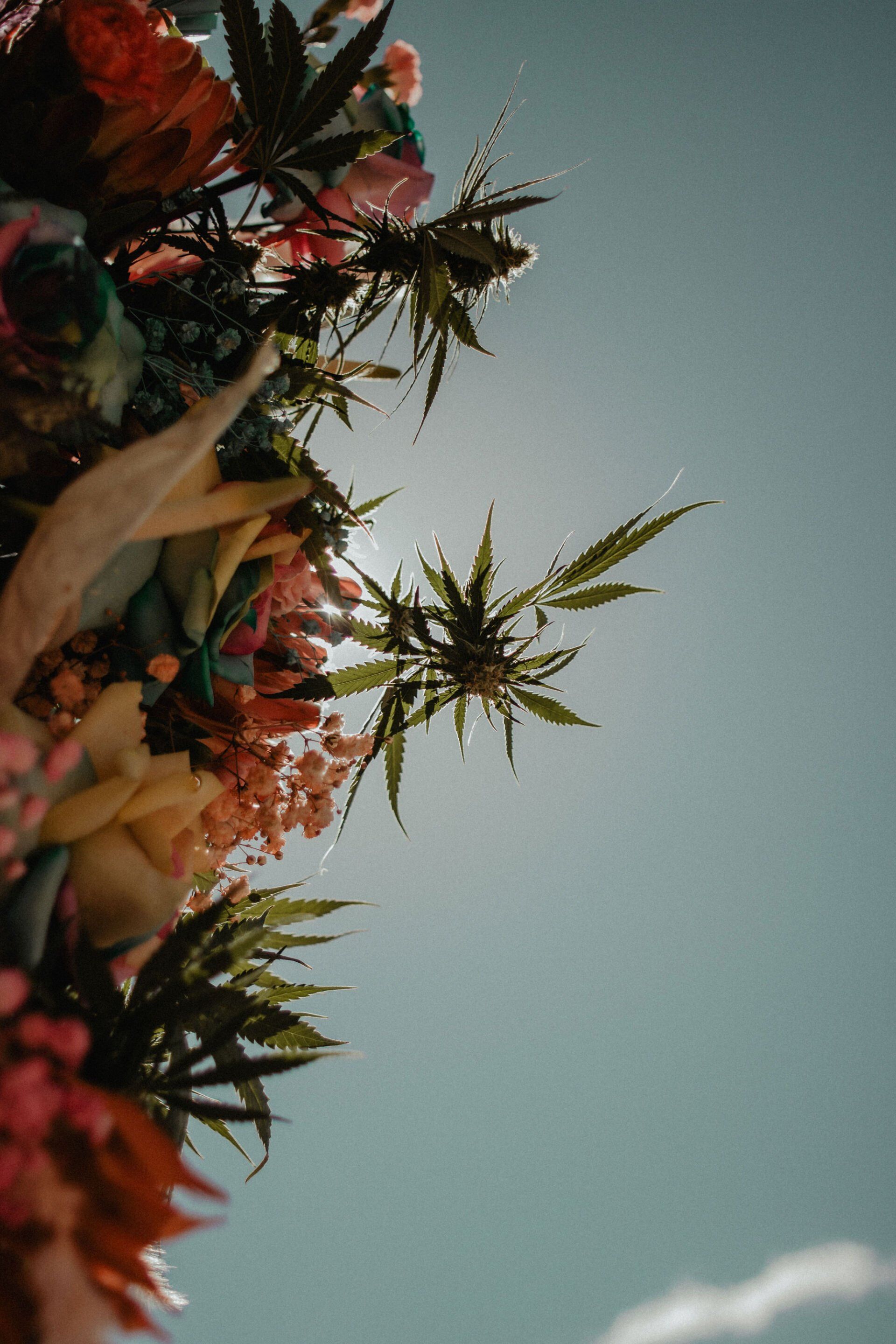 This was such a special shoot and I loved pulling it together. Details are EVERYTHING and this shoot was full of them. I am forever grateful to the vendors that came together to bring my vision to life. We had a blast at Cherry Clouds Oasis and I cannot wait to go back for an event but also to stay overnight in one of their amazing trailers, enjoy my friends and relax under the Cherry Skies.
Please take a second to show all the vendors involved some LOVE and go follow their pages!
Venue: Cherry Clouds Oasis
Photographer & Videography: The Combs Creative with assistants Jess Ren Photos & Taylor Made Photo
Videographer:
Floral Design: Miss Daisy & Shop Love Pot
Planning, Event Styling & Rentals: P3 Events
Officiant: Amanda Monk
Catering: Pizza Stoned
Cocktails: Trixie's Mobile Bar
Hair: Andie P. Artistry
Makeup: Sin City Bridal
Lighting: Trev Production
Dress; JJP Dress Rentals
Tuxedo: Friar Tux
Cake: Caked Las Vegas
Budtenders: The Vegas Tenders
Stationery; Valerie Cana
Guitarist: Josh Crooks
Photographers involved in the Content Day: Christina Forza, Adri Shoots & Kristen Elizabeth