If you're looking for a unique and stylish way to elope in Las Vegas, consider a Palm Springs-inspired celebration! With good food, great vibes and plenty of fun — it's the perfect way to start your happily ever after. Read about this real couple and creating a Palm Springs chic wedding style in the BLOG below:
When Maryssa and Mattie booked us, we were so overjoyed to start planning for them. And not just because we were stoked about the weed-friendly element! They also wanted great music, outdoor space, vintage Vegas style, all within a Palm Springs chic vibe.
We did exactly that and dreamt up a unique, unforgettable night of celebrating their union.
Their Palm Springs Chic DAY
The day began with a bit of pre-wedding R & R, as the brides opted to get ready together. Makeup in the 702 arrived promptly in the morning to make Mattie and Maryssa both feel and look their best in a Palm Springs chic fashion. Mattie suited up in a deep, earthy green jacket and pants with a white shirt underneath. And Maryssa wore a bejeweled, white mermaid dress with a tulle flare at the end.
Overall, they had a super chill morning with lots of laughter before it was time to take pre-ceremony photos around the strip with Samantha Jacob Photography (who also captured these morning moments).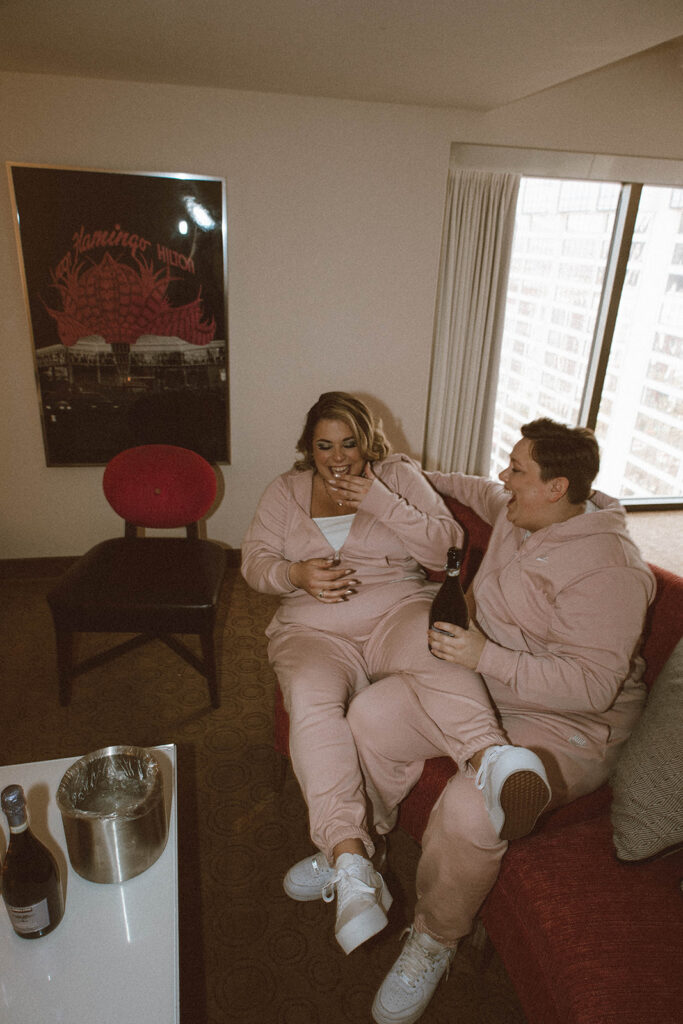 The brides began their photo tour near Circa Resorts World and Casino which has the coolest backdrops for elopement photos in Las Vegas. They also hit the arts district for a vintage Vegas vibe + palm springs chic they originally were craving when coming up with their wedding design. If we could share all of these photos we would, but here is a little recap of their photo tour on the Vegas strip. TIP: Definitely consider adding this part to your elopement schedule if you haven't already!
Tying the Knot with a Palm Springs Chic Twist
The transportation limo took the brides right to their ceremony at Sure Thing Chapel. This spot is one of our TOP rated spots in, "Best Elopement Locations: According to a Las Vegas Wedding Planner." For their ceremony, we incorporated their Palm Springs chic vibe with some simple pillars of greenery next to the heart-shaped altar.
We also had Berylnn as the officiant, from Peachy Keen Unions, wear a bright yellow gown to fit the Palm Springs chic fashion. She always does a fantastic job performing ceremonies and keeping couples calm in the brief pre-ceremony prep. The ceremony itself was heartfelt; the couple walked down the aisle together, the personal vows, and enjoyed many sentimental reactions from their guests throughout.
After the ceremony, the photographer wrangled guests for family & friends photos inside. While, outside our P3 team was preparing a champagne toast right outside of Sure Thing. Guests also enjoyed leaving a message via audio guestbook and indulging in the photobooth. Then, with a champagne send-off; they drank and hopped on the party buses to head to their palm springs chic reception.
Palm Springs Chic RECEPTION aka Pizza Party
With chic décor, plenty of tasty food and a smoke bar to enjoy, this Palm Springs chic elopement was the perfect way to celebrate Mattie & Maryssa's love in style. From the moment their guests arrived at Midcentury Manor, it was as if you stepped into a desert oasis.
Their décor (mostly by Dream Event Rental) was inspired by the trendy and stylish Palm Springs chic aesthetic. There was plenty of lush plants on the tables (all floral thanks to Bloomingbelles) and pastel colors for the linens. The night kicked off with a cocktail hour and traditional wedding timeline events (grand entrance, speeches, first dance).
But the real highlight of this elopement was next: the FOOD. With a menu filled with delicious bites and treats from both Pizza Stoned LV and Platinum Catering, people were fed all night long. My favorite part was the two, heart-shaped pizzas made for the brides. And don't forget about the smoke bar provided by The Vegas Tenders. This is where everyone could truly relax and enjoy a variety of smoking options.
While guests danced, ate, and partied during the night —the P3 Events team setup an incredible dessert bar (Patisserie Manon). It consisted of a donut wall, eclairs, and other party pastries. Every time we re-filled, the sweets were gone in mere minutes. Overall, the guests thoroughly enjoyed the Palm Springs chic elopement. But more importantly the brides had a night they will never forget!
Vendor List:
Ceremony: @surethingchapel
Reception: @midcenturymanor
Planning: @p3events
Photo: @samanthajacobphotography
Florist: @bloomingbelleslv
Rentals: @dreameventrental
Rentals: @rsvppartyrentals
DJ: @secondsong_official
Hair & Makeup: @makeupinthe702
Officiant: @peachy_keen_unions
Transportation: @belllimolv
Catering: @pizzastonedlv
Catering: @platinum_catering_lv
Bar/Beverage: @thevegastenders
Dessert Bar: @patisseriemanonlv
Bar & Budtending: @thevegastenders
Audio Guestbook: @fortherecordguestbook